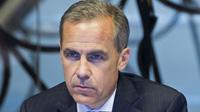 The head of the Bank of England has warned the finance industry it is the "first line of defence" in ensuring growing levels of consumer lending don't create a future financial crisis.
Amid concerns about growing levels of personal debt, the bank wants to ensure that lending standards remain high so consumers aren't offered loans they can't afford to repay and banks don't expose themselves to increased risks of default.
Consumer credit growth has outpaced that of household income over the past year, the bank said, with "notable increases" across credit cards, personal loans and auto finance.
The Financial Policy Committee has commented that the overall domestic risk environment is now at the standard level, with most financial stability indicators neither particularly elevated nor subdued.
However, Bank of England governor Mark Carney said that although risks were not seen as elevated, it was important to ensure lending standards were maintained, especially in "pockets of risk that warrant extra vigilance".
In an opening statement to the June Financial Stability Report, he said: "In an environment of intense competition, interest margins have fallen and risk assessments have declined. Lenders are therefore more vulnerable to losses in stress. Moreover, the short maturities of consumer credit mean that the credit quality of the stock of lending can deteriorate quickly.
"Firms are the first line of defence to ensure that risks are priced and managed appropriately. The second line is supervisory oversight."
As well as holding more capital against credit card debt and consumer loans, banks have also been warned that next month the Financial Conduct Authority and the Prudential Regulation Authority will also publish new affordability rules to make sure customers are likely to be able to repay their debts.
Adrian Dally, head of motor finance at the Finance & Leasing Association, said the Bank of England recognised that arrears rates on dealership car finance tend to be lower than for other forms of consumer credit because it is secured against the vehicle.
It also noted that growth in dealership motor finance reflects a recovery in new car registrations and a shift in how cars are purchased, away from ownership.
There have been growing concerns among regulators about the risks inherent in auto lending, particularly personal contract purchase plans, where loans are based on a predicted residual value that could prove optimistic in the event of an economic downturn or sudden shift in consumer demand. A key example is changing attitudes towards diesel vehicles.
However, Dally added: "We note that the Bank's hypothetical modelling of a fall in used car values going well beyond anything seen historically – even during the financial crisis – nonetheless shows a relatively modest impact on capital ratios.
"In fact, lenders providing car finance have long experience of modelling car prices during all sorts of financial conditions, and the risks are well-understood and well-managed."
The growing importance of the industry and its critical role in managing consumer finance risk was highlighted by Richard Jones, managing director of Black Horse and chairman of the FLA during a speech to industry leaders at the International Auto Finance Conference recently.
He warned that the auto finance industry should be prepared for greater scrutiny which reflects the growing importance of the market in the economy.
Speaking to hundreds of auto finance industry leaders at the event in London, he said: "We are a systemically important market to the UK consumer and we are fast becoming the biggest source of non-mortgage borrowing in the UK.
"I think we're starting to see the regulators regulate in a way that is fit for the size of our market. I don't think we're getting over-scrutinised. I think we're just getting more of a fit-for-purpose level of activity in our market and it won't change. We just have to deal with it.
"So, as lenders we have to come to the party and I think we can go beyond the rules or compliance in our market."
Jones suggested three guiding principles for the market, covering lending responsibly and safely, focusing on the customer, with transparent outcomes and providing high levels of support to dealers and customers, with a particular focus on education.