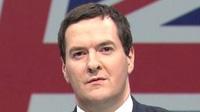 The Autumn Statement announcement by UK Chancellor of the Exchequer George Osborne brought a mixed outlook for asset finance.
Among several changes in corporation tax (CT) is the introduction of a 50% cut in the proportion of banks' annual profit that can be relieved by carried forward losses, with effect from April 2015. This will apply only to losses incurred before that date.
The stated intention is in effect to penalize banks for credit losses that arose from the 2008 crisis period, and to intensify the effects of regulatory business conduct penalties in recent years, to the extent that the relevant provisioning for these losses may not have been fully absorbed against tax payable up to the current year.
The revenue effect of this change is estimated at around £700 million a year in each of the four fiscal years from next April. The impact if any will no doubt vary greatly from one bank to another, and seems likely to be heaviest for those who incurred the greatest losses in the credit crunch period. It seems conceivable that this could encourage some early mergers of smaller banks, with larger ones that could make more timely use of accumulated tax losses in the acquired banks.
Diverted profits tax
From April 2015 there will be a new "diverted profits tax", at the rate of 25% (compared with the normal CT rate of 20% from that year) to counter the effects of "aggressive tax avoidance" by multinational companies diverting profits from the UK. It remains to be seen how this will work in practice, and whether it might affect any Europe-wide operations in equipment or motor finance.
It was announced that the government will shortly consult on whether, and if so how, penalty charges should be imposed on taxpayers whose tax planning schemes are disallowed by the courts, having been held to be "abusive" under the general anti-abuse rule (GAAR) which has already been adopted in the UK.
It is proposed that the setting of a separate CT tax rate for Northern Ireland will in future be devolved to the Northern Ireland Assembly, "provided that the Northern Ireland Executive is able to manage the financial implications". The Assembly had asked for that power; and it is generally expected that it would be used to cut the CT rate to the same 10% level as in the Irish Republic.
This devolved Northern Ireland CT rate will operate in a quite different way from the separate proposal, confirmed last week, for the Scottish Parliament to exercise devolved rates of personal income tax. Under the Scottish proposal, all taxable UK residents will remain subject to tax on their global (or in some cases UK sourced) income without any territorial division of the income base as between Scotland and the rest of the UK. They will, however, potentially be taxable on this income at different rates according to whether they are resident in Scotland or elsewhere.
Under the Northern Ireland CT proposal, however, all companies earning any of their UK taxable income within Northern Ireland would have to allocate that profit territorially as between Great Britain and Northern Ireland; and the two components would be taxed at a different rate. This territorial income split is considered practicable in relation to Northern Ireland, in contrast with the income tax position in relation to Scotland, due to the absence of a connecting land border in the Northern Ireland case.
Funding for Lending to be extended
Outside the tax field, the Funding for Lending (FFL) scheme whereby UK banks may draw on Bank of England credit lines to support their lending to SME customers – and which most, though not all, major banks find advantageous compared with using their own funding lines – will be extended for one further year, to January 29 2016. Unused allowances as at January 31, 2015 (when the scheme had been due to end) will remain available for drawdown through the extension period, and additional borrowing allowances will be generated only through increased net advances to SME customers. This scheme is available to support leasing as well as loan advances directly by banks, but not their lending to non-bank lessor clients.
The economic context
The background to the Autumn Statement is one where the UK fiscal deficit is being slowly reduced after the huge increase when tax revenues were affected by the credit collapse in 2008-9.
As a proportion of gross domestic product (GDP) the current deficit is forecast at around 5% in the current financial year, down from over 10% in 2009/10 but still higher than in most other major countries except Japan.
The government plans to eliminate the deficit over the next five years, and to prevent the accumulated national debt from rising beyond the peak level of around 81% predicted for next year. This would, however, require some substantial further expenditure cuts, not so far announced in detail, within the early part of the Parliament due to be elected in May 2015.
In the current year the UK economy is growing more strongly that of any other major country. It is forecast to register annual growth of 3% in calendar year 2014, slowing only to 2.7% in 2015 in spite of the distinctly poor current outlook in neighbouring Euro zone economies. UK fixed investment in new commercial buildings, plant and machinery has registered strong growth over the past 12 months, though it appeared to falter in the third quarter of this year.
In spite of the strong economic growth this year, UK tax revenues have so far fallen short of the levels predicted in the March Budget, resulting in rather slower progress in reducing the deficit compared with earlier plans