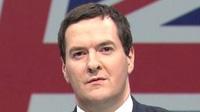 Following the change of government in the UK at the general election in May, with a purely Conservative administration replacing the previous coalition of Conservatives and Liberal Democrats, the Chancellor of the Exchequer George Osborne has announced a supplementary Summer Budget statement after the initial March Budget.
This includes some net increases in the business tax burden, alongside promised further reductions in the main corporation tax (CT) rate.
The economic context
The government remains committed to further reductions in the UK budget deficit in the years ahead. It now plans to achieve a balanced budget in four years' time, a year later than proposed in March.
The deficit rose as high as 10% of UK gross domestic product (GDP) in 2010 after the impact of the credit crunch and the subsequent sharp recession in 2008-9.
The deficit is now down to a forecast 3.7% of GDP in the current fiscal year. The chancellor plans to reduce it progressively to 0.3% by 2018/19, and then to run a surplus "in normal times" (allowing for the possibility of annual deficits in any future recession periods).
Current UK economic conditions are relatively favourable by international comparison, with GDP officially forecast to increase by 2.4% in 2015 and a further 2.3% next year, after 3% growth in 2014. The ratio of accumulated national debt to GDP, which has doubled to just over 80% over the past eight years, is now forecast to stabilize and then fall to around 75% in 2018/19.
The further cuts in the deficit are to be achieved mainly by reductions in welfare cash benefits. There will be small net reductions in personal taxation over the next two years, but for business taxation it will be a more mixed picture.
Plant and machinery investment
One significant change for asset finance concerns the annual investment allowance (AIA). This form of capital allowance (CA) against corporation tax (or income tax in the case of unincorporated businesses) for plant and machinery investment provides a special incentive rate for small firms. It comprises a 100% Year 1 tax deduction, capped at a specific cash level for each individual business or connected group of businesses. It is thus much more advantageous than the general CA rate, which is at 18% a year on the "reducing balance" basis.
The AIA cap level has fluctuated considerably over recent years. Currently it is at a temporary stimulus rate of £500,000 per business per year. At one time this was due to revert to only £25,000 from January 2016. However, it will now be at a permanent rate of £200,000 from that date. For those claiming it, the potential value of AIA from next year will thus be less than at present, but more than it might have been without the Budget announcement.
For small business customers, the AIA tends to discourage the use of finance or operating leases. This is because on all leases (without transfer of title to the asset) CAs are claimed by lessors who, due to their significant portfolios, gain minimal benefit from AIA. However, the AIA does support the use of hire purchase type agreements, where it is the customer who claims CAs.
Corporation tax and banks
The main CT rate is to be reduced further in the years ahead. A reduction to 20% with effect from April 2016 had already been enacted. It has now been announced that the rate will fall further to 19% for each of the next three fiscal years (starting from April 1) and then to 18% from 2020/21.
Banks, however, will in future be subject to a surcharge of 8% above the general CT rate, effective from next April. This will apply to "banking companies and building societies" and will be subject to an exempt annual allowance of £25m, and group relief for any losses by non-banking companies within the group.
The relevant notice from HM Revenue & Customs (HMRC) states that there will be a targeted anti-avoidance rule, to negate the effect of arrangements to avoid or reduce the surcharge.
The relevant draft legislation for the banks' CT surcharge should be available soon. It seems that the definition of a banking company for this purpose will be aligned with those used by the financial regulators. At first sight, as some bank-owned lessor groups are currently structured it seems possible that the surcharge would perhaps apply to dividends received by banks from leasing company subsidiaries, but not to the profits of those subsidiaries.
At the same time, however, the current bank levy is to be eased over the coming years. This tax, first introduced from January 2011, is a balance sheet charge falling mainly on wholesale market funding by major banks. The main rate of the levy, which is at 0.21% for the current calendar year, will fall to 0.18% for 2016 with progressive further reductions to 0.1% from 2021 onwards.
The bank levy, being imposed on the worldwide business of UK based banks, bears particularly hard on international banks with UK headquarters such as HSBC and Standard Chartered. It had been widely expected to cause some relocations of global head offices had no concessions been made.
The revenue effects of the CT surcharge for banks are forecast to exceed the costs of the bank levy reductions, with the difference rising to a maximum annual amount of £365 million in the 2018/19 fiscal year, then falling to £105 million from 2020/21.
The chancellor confirmed a proposal announced in the March Budget to disallow for CT purposes any customer compensation costs ordered by the Financial Conduct Authority under its misconduct powers. This will apply to all such expenditure arising after Budget day July 8.
Taxation of small companies
Some brokerages and small finance companies, and many of their SME customers, could be hit by increases in the taxation of dividend income. These are designed to reduce the attraction or proprietors effectively choosing to receive remuneration by way of dividend distribution rather than pay, to take advantage of the large difference that has now opened up between the CT rate and the top rate of personal income tax.
From April 2016 the dividend tax credit (which is currently allowed at a rate reflecting the fact that CT has been payable on the company's profits) will be abolished; and dividends will be additionally taxed at rates of up to 38.1% for top rate income tax payers.
Future VED changes
The car finance market will be affected by changes in the structure of vehicle excise duty (VED), for cars first registered from April 1 2017. Compared with the current rates, this will increase the tax for many relatively low emission cars (though not for zero emission electric vehicles).
The new rates will include a first year rate varied according to CO2 emissions, in 13 bands ranging from zero to a maximum of £2,000. For subsequent years, however, there will be a standard £140 rate (except for zero emission cars), but with a surcharge of £310 for each of the first five of those years for cars with a list price above £40,000.
Employment laws
The chancellor announced some employment law changes that could add to costs for many UK businesses. There will be substantial successive increases in the national minimum wage over the period up to 2020. Osborne acknowledged that this in itself is likely to eliminate some 60,000 jobs, but suggested that other factors would outweigh this in producing a substantial net growth in employment over the period.
There is also to be a new "apprenticeship levy" on all large employers, subject to rebates for those who undertake eligible training activity.