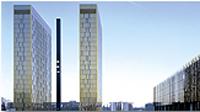 A vehicle supplied under a hire purchase-style contract containing an option to purchase should be treated as a supply of services rather than goods, according to the EU's highest court, which could mean VAT benefits for auto finance suppliers.
The Court of Justice of the European Union (CJEU) has released its judgment in a case relating to Mercedes-Benz Financial Services UK (MBFS).
It says HP-style agreements should only be treated as a 'supply of goods' for VAT purposes if exercising the purchase option is the lessee's "only economically rational choice".
The case concerns the VAT treatment of a specific motor vehicle finance agreement called 'Agility'.
MBFS also offers traditional 'hire purchase' finance arrangements which are recommended for customers who want to purchase the vehicle and an ordinary 'leasing' product for those that do not.
The Agility product is recommended to customers who are undecided as to whether they want to own the car and want to keep open the option of whether to purchase or not.
The product largely reflected the form of a PCP, but a final balloon payment was offered as being entirely optional for the customer.
MBFS considers that Agility is a rental agreement with an option to purchase and therefore should be treated as the supply of services for VAT purposes.
HM Revenue and Customs disagreed because if there is the possibility that title would pass, there is a supply of goods.
The CJEU's conclusion was that the supplies in question are those of services.
This could create a significant cash flow advantage for finance companies of not having to account for output VAT upfront, but when instalments are paid.
As a result of the judgement, VAT may have been overpaid by customers and car manufacturers.
However, while the CJEU has provided clear guidance, it is ultimately for the national courts to determine the answer on a case-by-case basis in light of all the facts.
A spokesman for KPMG said: "In KPMG's view, the application of the CJEU's guidance when applied to MBFS's Agility agreements will mean that these contracts should be classified as falling outside Article 14(2)(b) and therefore treated as services."
To access the judgement, visit:
http://eur-lex.europa.eu/LexUriServ/LexUriServ.do?uri=CELEX:62016CC0164:EN:HTML
For a more detailed KPMG note on the potential implications, visit:
https://home.kpmg.com/content/dam/kpmg/uk/pdf/2017/10/mbfs-judgment.pdf
Photo Source: Court of Justice of the European Union