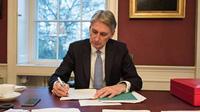 Automotive industry experts in the UK have raised concerns about the impact of Budget initiatives announced this week that increase costs for users of diesel cars.
While new incentives for electric vehicles revealed by Chancellor of the Exchequer Philip Hammond are welcomed, tax hikes that affect most diesel drivers have been criticised for their potential impact on businesses and consumers.
In the comments below, industry experts give their view on the key issues raised by the Budget speech.
"Having previously promised that it was only looking to change the tax treatment for new diesel cars, the Government has gone back on its word by retrospectively raising the company car tax bill of hundreds of thousands of workers. People that chose a diesel car as a cost-efficient, low CO2 form of essential business travel are being punished unfairly. We are also disappointed that the government has not given any further clarity on company car tax rates beyond the 2020 tax year. This information is vital as BVRLA members work with their customers in putting drivers into the most affordable, safest low-emission vehicles. Although manufacturers are bringing an ever-expanding range of AFV's to market, the infrastructure is not in place yet to make it a mainstream choice" Gerry Keaney, chief executive, British Vehicle Rental and Leasing Association
"Market demand for diesel has fallen over the last 12 months and we know from speaking to dealers that diesel vehicles are becoming slightly more difficult to shift. In addition, the growing negative discussion around diesel has not helped with consumer confusion and has resulted in growing public distrust and uncertainty. We firmly believe diesel will maintain its leading status for some time, however dealers shouldn't take today's freeze on fuel duty for granted as the chancellor confirmed plans to improve the UK's air quality problem via a new tax treatment for diesel vehicles next year. Dealers that are planning ahead and managing stock profiles correctly, including strengthening forecourts with an increase in electric and hybrid fuel vehicles, will be in a good place to ride through any announcements made in due course." Philip Nothard, head of external relations, Cox Automotive
"The diesel benefit-in-kind supplement will increase by 1% from April 2018. In news that will encourage manufacturers to continue to advance cleaner diesel engines, the diesel supplement will be removed entirely for vehicles that meet the Real Driving Emissions step 2 standard (RDE2) bringing it in-line with the petrol equivalent. It is disappointing news for drivers in existing diesel cars who will be subject to the rise and not given time to move into cleaner technology." Claire Evans, head of fleet consultancy, Zenith
"We welcome the Government's announcement of a £400 million fund to develop the UK infrastructure for electric vehicle charging, the £100 million for plug-in grants and the additional £40m investment into the development of vehicle charging solutions. This is a positive move which will see the UK begin to lead the market in innovative vehicle technology. The fact that the Government has also clarified its position on diesel vehicle taxation should begin to provide stability for the new car market. Increasing VED by one band for older diesel vehicles that don't meet current legislation should encourage consumers to opt for more modern, cleaner engines, although it is interesting to see that this does not apply to business van use. The freeze on fuel duty is also very welcome at a time when the consumer has just been hit by higher inflation and a rise in interest rates." Rupert Pontin, director of valuations, Cazana
"The announcement of a £400 million fund for the fitting of electric charging points and £100 million for plug-in car grants to boost clean car sales indicates a clear desire to increase the pace of change, something that will surely be supported by local government plans in 2018. It also provides encouragement for car retailers who will hope to see much-needed positive momentum in car sales. Car buyers will be anxious for information on the change and how it will impact them." Abe Smith, CEO and founder Dealflo
"Today's Budget announcements are positive news overall for the UK's fleets, with plans confirmed to allocate £400 million for the fitting of electric car charging points, £100 million to boost the sales of clean cars and £40million in charging research and development. This funding will go some way towards driving electrification, which 63% of businesses expect to embrace within five years. However, we believe there is still a long way to go to reassure fleets that the route to an alternatively fuelled future will be a smooth one. We urge the government to collaborate with industry to produce a simplified, business-oriented roadmap to help the UK's SMEs to take an informed step forward and make the most of the upcoming EV revolution." Stuart Thomas, director of fleet and SME services at the AA.