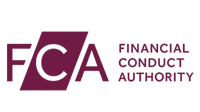 The UK's Financial Conduct Authority is launching a mystery shopping exercise as part of its review of standards in the motor finance industry.
The initiative comes as its latest update on the review reveals a broadly positive picture for the market.
In the update, the FCA said that although demand for motor finance has grown, this has mainly been strongest for consumers with better credit ratings, who are less likely to face repayment difficulties.
It added that arrears and default rates remain generally low, though they have increased moderately in recent years.
The update added that the largest lenders are adequately managing the risk of a severe fall in prices for used cars but cautioned that firms should regularly consider relevant changes in the market.
However, it said that, if not properly managed, some of the commission arrangements in place could incentivise dealers to arrange more expensive finance for customers.
It added that while terminology and language appear to be clear and consistent, in some cases customers are not being provided with key information "in an accessible manner".
Following the initial work, the FCA has three main areas of focus:
Whether firms are properly assessing whether customers can afford to buy the car they are being offered – particularly for people with lower credit scores
How firms are managing the risks around commission arrangements for dealers
Whether consumers' engagement with firms, and the information they are given, allows them to make informed decisions
The FCA's update said: "We are separately assessing, through a mystery shopping exercise, whether consumers have access to clear, timely and transparent information at the point of taking out motor finance.
"This will develop our understanding of current practices and whether consumers are aware of the risks and benefits of different motor finance options, including the cost implications. The mystery shopping exercise will allow us to test compliance with relevant regulatory requirements."
Overall, the update shows that the industry has responded well to growing demand for auto finance.
The number of point-of-sale consumer motor finance agreements for new and used cars has grown from around 1.2 million in 2008 to 2.3 million in 2017.
New finance contracts accounted for 88% of new private car registrations in 2017, up from 59% in 2008.
Personal contract purchase (PCP) agreements accounted for 66% of the value of new and used car finance lending, up from 34% in 2008. Motor finance accounts for 24% of total unsecured debt.
The provision of motor finance in the UK is split between firms which are regulated by the Prudential Regulation Authority (PRA) or by the FCA.
Firms solely regulated by the FCA represent 59% of the market.
The FCA update said: "We have concluded that the largest FCA solo-regulated lenders are adequately managing the risk of a severe fall in used car prices, such that this would not materially affect their overall financial soundness.
"We remind all FCA solo-regulated firms to regularly consider structural changes in the market which could affect their assumptions of residual car values and could impact on their firm's financial soundness."
When considering the issue of responsible lending, the FCA found that consumers in the lowest 30% of the credit score range accounted for only 2% of outstanding motor finance lending in December 2014 and 3% in December 2016.
Lending to consumers in the highest credit score range, with the lowest credit risk, has grown more than lending to consumers in the lowest credit score range with the highest credit risk.
Consumers in the highest 30% of the credit score range accounted for 54% of outstanding motor finance lending in December 2016, up from 49% in December 2014.
The distribution of motor finance by consumer credit risk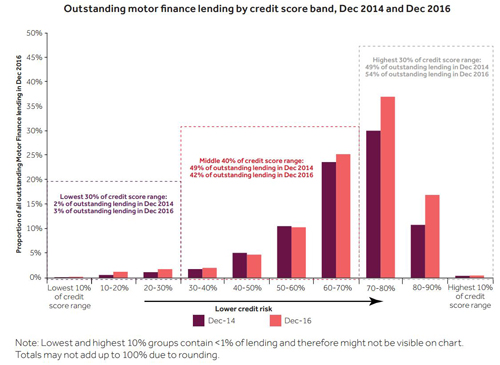 The FCA also painted a positive picture of lending practices when it comes to arrears.
It found that arrears, missed payments and defaults are generally low, with 2.4% of accounts having missed one or two payments and 0.4% having missed between three and five payments in 2016.
By comparison, 1.6% of mortgage accounts were in arrears in Q4 of 2016, while for personal loans and credit cards, around 0.3% and 2.2% of customers respectively were two or more payments behind for the same period.
The next phase of the FCA's work will focus on whether lenders are adequately assessing consumers' ability to repay motor finance, including looking at how lenders assess affordability.
Commission arrangements
A key area of future focus is how incentives from commission arrangements could affect the impartial provision of funding to consumers.
The FCA has already highlighted new rules and guidance proposed in its July 2017 consultation paper 'Staff incentives, remuneration and performance management in consumer credit'.
This would apply to motor finance firms and require them to manage the risk of consumer harm that may arise from staff incentives, remuneration and performance management.
The FCA says that without appropriate systems and controls, some commission structures could provide incentives for dealers to arrange finance at higher interest rates.
In response, it is planning to test the effectiveness of lenders' systems and controls, including through a lender survey.
This will include the extent to which lenders comply with relevant requirements and take steps to make sure that brokers acting on their behalf comply with CONC provisions such as disclosure of status, remuneration and commissions.
It is also collecting data on motor finance contracts to assess whether commission arrangements have led to higher finance costs because of the incentives they create for brokers.
In response to the update, Adrian Dally, head of motor finance at the Finance and Leasing Association, said: "We welcome the FCA's update on its exploratory work in the motor finance market – particularly that most of the growth in the sector has been for those customers with higher credit ratings, that arrears and defaults remain low, and that prudential considerations are being robustly managed.
"It's also useful that the FCA agrees that motor finance contracts are generally transparent, and provide useful flexibility for customers."