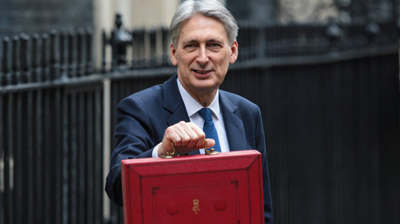 The annual budget statement from UK Chancellor of the Exchequer Philip Hammond will bring some net easing of the UK tax burden in the coming year or so, but with some tax increases taking effect later, and a few distinctly adverse developments for asset finance.
Asset finance changes
There will be significant changes in the capital allowance treatment of several categories of UK fixed investment.
One unwelcome change is a reduction in the already very low rate of annual writing down allowances (WDAs) on "long life" plant and machinery assets - i.e. all those with a normal working life of over 25 years, such as aircraft and railway rolling stock.
From April 2019, the annual WDA rate - calculated at progressively declining rates over the life of the asset on the 'reducing balance' basis - will be reduced from 8% to only 6%. This compares with the main WDA rate for other plant and machinery of 18%, which is not changing.
The value of the annual investment allowance (AIA) is to be increased from the current level of £200,000 to £1 million for a temporary two-year period, for expenditure incurred from January 1, 2019.
The AIA provides for a 100% first year write-off for limited amounts of plant and machinery investment. Because of its financial limit, applied to each individual business or connected corporate group, it has a significant effect only on SMEs.
For most types of lease agreement, where the lessor rather than the lessee claims CAs, the AIA effectively discriminates against the use of leases since it only supports assets acquired outright by the SME user, rather than taken on lease.
This effect will therefore be increased by the temporary enhancement of the AIA limit. However, the AIA does support equipment taken on some types of asset finance agreement such as hire purchase, where CAs are claimed by the hirer (i.e. the customer) rather than the financier.
There is to be a completely new system of CAs in the form of a structures and buildings allowance (SBA), to be backdated for all construction expenditure incurred from Budget day. This will be a "straight line" annual allowance of 2%, allowing for a full tax write-off of costs over 50 years.
For the past 10 years there have generally been no CAs on buildings, on the grounds that property in general (including the value of the land) does not depreciate over time. Prior to 2008 there had been 4% annual write-offs on industrial buildings and hotels. However, the new SBAs will apply to all commercial as well as industrial buildings.
SBAs will be available to real estate lessors as well as owner-occupier businesses. Yet it seems unlikely that they will attract into that sector those financial sector lessors involved in equipment leases where the WDA rates are higher.
IFRS 16 changes
Some minor changes were announced on Budget day to the draft legislation published in July on the tax treatment of leased plant and machinery, consequent on the new IFRS 16 lease accounting standard.
For those (mainly larger) lessee companies whose accounting follows international financial reporting standards (IFRS) rather than UK national rules, IFRS 16 will remove the current distinction between finance and operating leases, and require most operating leases to be brought on to their balance sheets.
Some consequential changes were necessary to tax laws, which currently draw a number of distinctions between finance and operating leases that will no longer be relevant for IFRS-accounting lessees. However, the purpose of the legislation is generally to continue the current tax treatment of typical equipment lease structures where in most cases the lessor claims CAs irrespective of whether the leased asset appears on the lessee's balance sheet. The draft legislation has been generally welcomed by the UK leasing industry, and the latest revisions to it do not appear to change the position significantly.
Insolvency changes affect asset finance
One Budget day announcement that will be much less welcome to the asset finance industry concerns the priority position of HM Revenue & Customs (HMRC) in business insolvencies.
To a large extent this will reinstate the seniority of HMRC claims over those of private unsecured creditors, which existed prior to the Enterprise Act 2002.
Proposed legislation to take effect from April 2020 will give new priority to HMRC claims to taxes owing by the insolvent business and already paid by its employees and/or customers (principally PAYE income tax and VAT).
Fixed charges over the insolvent business's assets held by bank lenders etc. will remain senior to HMRC claims in the creditor hierarchy; and tax liabilities of the insolvent business itself (e.g. corporation tax in some cases) will not be affected by the change.
However, the change seems likely to increase financiers' overall losses from any given insolvency by giving the major HMRC claims a new priority over arrears of commercial lease rentals and loan repayments.
Wider tax changes
In personal income tax there will be some increases in tax-free personal allowances and the starting point of higher rate tax next April, despite pre-Budget expectations of a freeze.
The Chancellor also announced that there will be no change in the UK VAT registration threshold for micro-businesses (currently at annual turnover of £83,000) for the next two years. It had been expected that this might be reduced towards the lower levels of most other EU countries.
There will be a significant temporary concession in business rates (i.e. property tax) for small premises, for two years from April 2019. In England properties with rateable values below £51,000 will have their rates reduced by one third in this period. Similar decisions are likely for other parts of the UK by their devolved administrations.
A number of new anti-avoidance rules were announced. These included:
Action against some contractors deemed to be inappropriately claiming self-employed status through personal service companies. The basic ground rules for determining employment status for tax purposes will not change. However, "large and medium sized" client businesses will be potentially held responsible for their contractors' compliance as from April 2020. Details will be set out in draft legislation to be published in the summer of 2019.
Moves against 'value shifting' of taxable profit towards low tax jurisdictions by UK unincorporated businesses, to take effect from 1 April 2019. This appears to be in line with similar changes already enacted for companies.
Closing of a VAT loophole for insurers. This concerns a practice known as 'VAT looping', where some UK insurers (whose receivables are generally VAT-exempt) have been able to recover some input VAT that would normally be irrecoverable by exporting their services, then arranging to make supplies to UK consumers via offshore-based associate companies.
The research and development tax credit for SME businesses will in future be capped at a level of three times the firm's current PAYE and National Insurance contributions each year.
There will also be a couple of completely new taxes. The Chancellor has decided to proceed with a digital services tax (DST) at 2% on advertising revenues generated from search terms inputted by UK users of search engines and social media platforms. It will be imposed from April 2020 on those suppliers with annual global revenues of more than £500m, and subject to a £25m tax-free threshold in UK revenues.
Hammond announced that this move was targeting 'established tech giants rather than our start-ups'. The DST is a response to the limited amounts of corporation tax payable by global groups in this field under current rules for determining their UK trading income. Following a similar initiative in Spain, and consideration of this issue across other European countries, there are nevertheless fears that this could be seen in the US as a move specifically against companies domiciled there, with possible consequences in terms of global trade protectionism.
There is also to be a new tax on the manufacture and importation of plastic packaging, if it has recycled content of less than 30%.
Private finance in the public sector
The Chancellor announced that there are to be no new contracts let under the private finance initiative (PFI, or its latest variant PF2), whereby private funding has been used to construct and develop new public assets such as hospitals, schools and roads. This follows an unfavourable review of the value for money offered by many of these schemes, and a general reduction in their use since 2012.
At one time many PFI schemes appeared to be used to keep capital projects artificially off the balance sheet of the UK public sector, although a reappraisal of the application of the relevant accounting rules led to some such projects coming back on-balance-sheet. The government remains committed to the principle of public/private partnerships (PPPs), whereby private investors can fund public facilities in conjunction with related commercial projects of their own.
PFI and PPP schemes in the past have offered some scope for an equipment leasing content within the overall contractual structures. It is possible that the demise of PFI could reduce these opportunities.
The economic context
The Budget came in the wake of a much more positive outturn and current year forecast for the public sector's financial position, compared with earlier forecasts. This has made it possible to avoid major net tax increases to date, despite a government commitment last June for greatly expanded public spending on the National Health Service in the years ahead - and some Budget day announcements of spending increases in other service areas.
The public sector's annual financial deficit had risen as high as 10% of gross domestic product (GDP) in the wake of the global financial crisis after 2008, which led to a lasting loss of tax revenue from the UK financial sector. After heavy spending cuts and some significant tax increases since 2019, the deficit has now been reduced to 1.2% of GDP in the current fiscal year (ending 31 March 2019).
The deficit is forecast to rise slightly to 1.4% of GDP next year, then to fall to 0.8% by 2023/24. Total national debt is estimated to have peaked at 85.2% of GDP in 2016/17, and this is forecast to have fallen to 83.7% in 2018/19, with further falls to below 75% by 2023/24.
The forecasts all assume continuous economic growth, which is officially projected in the range of 1.4-1.6% in each of the next four years.
All of this, however, is based on the assumption that current Brexit negotiations with the EU will produce a satisfactory outcome. That would include a long-term free trade agreement with the remaining EU 27 member states; and a transitional period to cover the time it would take to agree this, through the UK remaining within the EU Customs Union and subject to all Single Market rules for some time after 29 March 2019 when the UK's Article 50 notice to leave the EU expires.
By contrast a 'no-deal Brexit', where new tariff barriers could be imposed between the UK and the EU 27 next March, remains a possibility. By common consent this could have severe adverse effects for the UK economy. The Chancellor said that the 'fiscal statement' due next March, which in the normal course of events would bring no major new tax and expenditure announcements, could be upgraded to a 'full fiscal event' in some contingencies.
The latter would seem to imply a new Budget statement in March in the event of a 'hard' or no-deal Brexit.
For the immediate following period that might involve a fiscal stimulus with some tax reductions, and a return to a higher deficit. Yet in the longer term it would result in a much tighter outlook on both the tax and spending sides.
On the other hand, although the current official forecasts assume a satisfactory Brexit deal, the Chancellor implied that a 'deal dividend' in the outturn could permit further fiscal relaxations in view of the better economic prospects that this would bring.