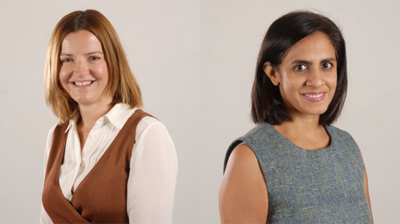 The asset finance industry has long been renowned for its ability to survive crises – and to evolve onwards to thrive and prosper. The recovery from the Great Recession from 2010, for example, was significantly aided by the formation of a breed of new lenders (e.g. challenger banks) and the ancillary services that served and guided them to their subsequent success.
In just such a manner is the latest pandemic challenge being met by the birth of new practitioners who have cast off legacy attitudes towards their clients and who are bringing a fresh approach to their service offerings.
One such is Auxillias, a newly-launched specialist legal and compliance firm for the consumer, asset and motor finance sectors. The co-founders and partners, Jo Davis and Daksha Mistry, told Asset Finance International that they were determined to form a law firm "with a difference".
Davis explained: "Our clients have always stressed that they would like to have legal and regulatory compliance support all in one place. So our vision was to create a market-leading specialist legal and compliance law firm bringing advisory, consultancy, regulatory and training support services to its clients within these specialist sectors – all under one roof."
Mistry added: "Clients want their advisers to not just give advice but to support them with implementing advice into their operations." "We are not," she stressed, "just lawyers providing legal, regulatory and compliance support – we also provide day-to-day advisory, consultancy and training support to our clients in order to provide all-round solutions."
Extensive experience
Both partners bring an extensive career background as legal practitioners to the new operation.
Jo Davis is a qualified lawyer who is well known throughout the asset finance industry. Prior to forming Auxillias she worked at Partner level with UK legal firms working across a wide spectrum of specialisms including consumer credit advisory and transactional matters, through to financial services regulation and compliance – including compliance with Financial Conduct Authority (FCA) handbook and Consumer Credit sourcebook implementation. She has worked with many well-known finance providers in the automotive, asset and consumer finance and leasing industries, as well as with banks.
Before co-founding Auxillias, most recently Davis led a legal team that received the Professional Services Firm of the Year Award from the International Asset Finance Network (IAFN) for the Firm's UK Asset Finance and Leasing Division. The judges commended her leading role in auto and equipment finance, and they also recognised her work as being "at the forefront of consultations and regulatory reform", noting "the enormous contribution made, not just to their clients, but to the wider industry."
Daksha Mistry has worked within the banking and financial services for over 20 years, working for a number of major law firms in the UK, and also as an in-house solicitor at GE Capital.
She has, in the last seven years, worked as a consultant supporting a number of high street banks and other financial institutions and also within the energy sector as a mediator for the Ombudsman Services.
Both partners have proven experience of working in-house before moving into private practice and are experts in consumer credit. This team experience means Auxillias can start and shape debates on issues that most affect its clients. They use several diverse platforms such as presenting at industry conferences, hosting roundtables and discussion groups, providing articles and comment to leading industry press and journals.
With the ebb and flow of fortune within the asset finance industry in a post-pandemic future, there will inevitably be a rush of new entrants as lenders. These new players will need significant advice as they face the implementation of the plethora of regulation that has been recently passed. Issues such as the impact of payment holidays, policy updates, ongoing reviews by the FCA, will all need expert advice for lenders who seek to tread warily through the "new normal".
A fresh approach
There is no doubt that the Auxillias partners are determined to bring a totally fresh approach to those seeking law firm advice. Davis explained: "We have a friendly and approachable culture which means we will adhere to clients' quotes, agree to a day-rate form of charging and move away from non-transparent costing."
"Our determined aim," she added, "is initially to determine the client's needs, spend time with them – not always on a chargeable basis - and work with them to complete the project."
Although Auxillias comes to the market with a small team of specialist freelance lawyers on board, the company is looking forward to hearing from more freelance legal & compliance lawyers – as well as freelance consultants with a firm knowledge of the asset finance industry – with the aim of them joining the team.
With such a proven success in their field of operations to date, and a new fresh approach to solving the asset and auto finance industry's immediate challenges, it seems without doubt that the launch of Auxillias will be an early winner in the recovery stakes of the industry in 2021.
Visit the company's website to learn more about its service range: www.auxillias.com