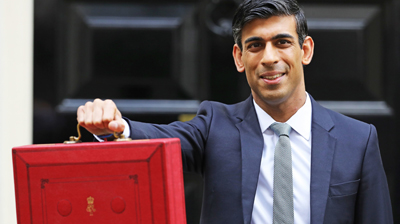 The UK's long awaited annual Budget statement was unveiled on March 3 by Chancellor of the Exchequer Rishi Sunak. Against the background of the huge loss of tax revenue and extra spending commitments forced by the Covid-19 lockdowns over the past year, there were announcements of major tax increases over the coming years to rebuild the public finances.
Main support schemes
Following the UK's successful start with the rollout of Covid vaccines, it is generally expected that lockdown restrictions will be progressively and finally eased over the coming months. For the immediate future, however, the various fiscal support schemes will continue, underpinning asset finance customers among both businesses and consumers.
The largest single commitment is the furlough scheme, supporting the retention of employees by businesses affected by lockdowns, with government guarantees for up to 80 per cent of normal payroll costs. This will run until the end of September, but in its final quarter minimum contributions from employers will be phased in, rising from 10 per cent in July to 30 per cent in September.
On the tax side the concessionary 5 per cent VAT rate for the hospitality and tourism sectors will continue until the end of September. For the following six months there will be an interim rate of 12.5 per cent, with these sectors returning to the 20 per cent standard rate in April 2022.
Relief from business rates (i.e. the UK's commercial property occupation tax), for the worst hit sectors in retail and hospitality, will likewise be phased out gradually. In England, where the UK government controls this tax directly, the complete exemption of those sectors will end on June 30, followed by a two thirds reduction of normal rates over the next nine months. Similar changes are likely in other parts of the UK, where devolved administrations have control.
There will also be continuing support for residential home owners. In England and Northern Ireland, a major current concession for housing properties on stamp duty land tax (a transaction tax charged to buyers), which had been due to finish at the end of March this year, will now run for a further three months. As further support for the housing market, there will also be partial government guarantees for a new scheme of 95 per cent residential mortgages for home purchasers throughout the UK.
Future tax rises
The largest tax increase for the future will be a jump in the main UK corporation tax rate from 19 to 25 per cent with effect from April 2023. This will be a major reversal of the current government's previous record in reducing the rate below those of major competitor countries. Sunak claims that the 25 per cent rate will still be lower than in many other major countries; but it remains to be seen whether this will be so in the light of possible changes elsewhere, and how the UK's competitive position as a location for international companies will be affected.
The 19 per cent rate will be retained as a "small profits rate" - a revival of a concessionary rate applied before the earlier reduction in the main rate. It will apply to the first £50,000 of annual profit for a single company unconnected with any others; and there will be taper relief for small profits above that level, before the main rate becomes applicable to annual profits above £250,000. While mainly designed for the smallest companies, the small profits rate will also affect some larger ones with marginal profitability in particular years.
Bank- owned finance companies are themselves set to be less affected by this change than their larger customers in asset finance. For banks are presently subject to a higher tax rate of 27 per cent. The Chancellor has promised that this rate will not be "significantly increased", although further details of the post-2023 plans for banks are still to be determined.
The burden of personal income tax, affecting unincorporated businesses as well as consumers, is also set to rise substantially after April next year. The rates of personal allowances, and the thresholds for higher rate tax, will rise in line with inflation this year but will then be frozen in cash terms for the following four years.
Consequently, average tax rates for all personal taxpayers will increase over those three years. The extent of this change will depend on how the inflation rate affects the real value of the allowances in the relevant period. The Chancellor did, however, announce that the target annual inflation rate – governing the conduct of monetary policy by the Bank of England – will remain at 2 per cent. Some forecasters nevertheless expect above-target inflation in the coming years, in both the UK and other countries.
Capital allowances and equipment leases
The Chancellor announced a major temporary stimulus for plant and machinery investment. This will take the form of a "super-deduction". For expenditure incurred on these assets during the two years from April 1 this year to March 31 2023 (but excluding contracts already agreed by Budget day), taxable profit for the relevant tax year will be reduced by 130 per cent of the asset value.
This concession therefore goes beyond the 100 per cent first year allowances (FYAs) which are made available from time to time for certain types of plant specially favoured on environmental or other grounds, or in enterprise zones (EZs). It stands in sharp contrast to the annual writing down allowances of only 18 per cent of cost (on a "reducing balance" basis), which is the normal capital allowance (CA) rate for plant and machinery.
There will be the now customary types of exclusion from this concession, as already applied to FYAs under Section 67 Capital Allowances Act 2001. These include all claims by leasing companies on assets leased to customers, and all expenditure on business cars.
Business equipment users will be able to take advantage of the super-deduction under those asset finance contracts where the lessee or hirer, rather than the lessor, claims CAs. These comprise hire purchase type agreements; and also "long funding leases" (LFLs) – generally confined to lease terms of over seven years with relatively small residual values.
However, it seems that for the two-year duration of the super-deduction there will be a substantial tax disadvantage for many operating leases. This will not apply to car fleets business or to long life plant deals that could qualify as LFLs – nor to any contracts with customers in a tax loss position who could not take advantage of CAs at the relevant time.
Businesses that have incurred plant and machinery expenditure this year, but too soon to qualify for the super-deduction, could gain some benefit from a separate Budget announcement on the annual investment allowance (AIA). This permits a 100 per cent write-off on limited amounts of annual expenditure, again excluding cars, by a single business.
The AIA limit for calendar year 2021 will remain at £1 million as for the two preceding years, rather than reverting to the normal rate of £200,000 as previously proposed. Lessors are not excluded from the AIA, but its level is of course insignificant compared with typical equipment leasing business volumes.
Following earlier representations from the Finance & Leasing Association (FLA), the Chancellor announced that the 2021 Finance Bill will include some provisions relaxing certain LFL rules that could have caused problems for lease period extensions agreed between the parties as a result of Covid lockdown pressures on lessees.
These LFL changes will take effect for the whole period from the beginning of last year to June 30 this year. Where lessors claim CAs on deals that were not originally LFLs, the changes will prevent their conversion into LFLs for tax purposes through the lease extensions. They will also prevent the triggering of complex anti-avoidance rules in the existing LFL provisions that might otherwise threaten lessees' entitlements to CAs on contracts treated as LFLs at inception.
In a general comment on the Budget, the FLA has welcomed many of the announcements, without dwelling on the continuing effect of the Section 67 CA exclusions of which it has always been critical. Director General Stephen Haddrill said:"As lockdown restrictions begin to ease, there is a real need to instil confidence among consumers and businesses to ensure that any recovery in the economy can be sustained."
"The short-term certainty offered by the extension of furlough into September to help employers and employees is welcome – as is the Chancellor's support for an investment-led recovery. We also note that the super deduction CA scheme will include plant and machinery acquired on asset finance – an extremely useful measure."
Other tax announcements
The Budget included a few other easements of tax rules in the current period. These include a limited concession on carry-back facilities for trading losses under corporation tax (or income tax in the case of unincorporated firms). This will allow some businesses to claim immediate relief for current losses against tax liabilities for previous years, rather than having to carry the losses forward to later years.
For companies under corporation tax, these rules currently allow unlimited carry-back of losses only to the preceding year. For accounting periods ending in the 2021/22 finacial year, there will in addition be a carry-back allowance of up to £2m per company over the two previous years.
Some excise duty rates will be frozen this year, rather than being raised in line with inflation as is usual. This includes road fuel duty, although not vehicle excise duty.
The VAT registration threshold will also be frozen until 2024 at £85,000 of annual turnover per business.
The economic context
The severe shock to the UK economy from the Covid lockdowns is now estimated to have reduced gross domestic product (GDP) by as much as 10 per cent in calendar year 2020. The official Budget day forecasts from the Office of Budget Responsibility (OBR) are for a bounce-back of 4 per cent in 2021, followed by around 7 per cent in 2022 – with GDP growth then reverting to an annual trend rate of 1.6 or 1.7 per cent in the next three years.
On these assumptions GDP could have reverted to its pre-Covid level by mid-2022, which is six months sooner than the OBR forecast last November before the successes with the UK vaccine programme. GDP is nevertheless still forecast to be 3 per cent lower by 2026 than it would have been in the absence of Covid, based on previous economic trends.
The unemployment rate is now forecast to peak this year at 6.5 per cent. All forecasts at this stage, for both GDP and employment, are of course contingent on many uncertainties in current conditions. Some economic analysts predict high levels of business failures among "zombie companies" currently kept in business by the official support measures, and by forbearance from creditors and commercial real estate lessors.
In the light of all the post-Budget tax and public spending plans, the OBR forecasts that the public sector's financial deficit will fall from a peak of 17 per cent of GDP in the financial year 2020/21 to 10.3 per cent in 2021/222. It is then forecast to be down to 4.5 per cent the following year, and to 3 per cent by 2025/26.
The accumulated UK national debt is now forecast to peak at around 110 per cent of GDP in the coming years. This compares with the pre-Covid position where it was stabilising at around 90 per cent; or a little over 40 per cent before UK tax revenues were hit by the financial crisis of 2008.
On current plans the UK tax burden could rise to its highest level for 60 years by 2025. Although corporation tax and income tax are bearing the brunt of the currently planned adjustments, direct taxes in general will remain below pre-1980 levels. Yet indirect taxes like VAT, insurance premium tax and all the excise duties are considerably increased over all long term comparisons.
There are some hopes that if the economic bounce-back may end up being rather stronger than currently forecast, the planned tax increases from 2022 onwards could eventually be moderated. Yet not many businesses or consumers seem likely to be banking on that.
The industry responds
The Chancellor also revealed the launch of two new programmes to support businesses, which will be delivered by the British Business Bank (BBB):
Recovery Loan Scheme - Set to run from 6 April to 31 December, this scheme will provide loans up to £10 million per business, with the minimum facility sizes varying from £1,000 for asset and invoice finance, and £25,001 for term loans and overdrafts. Term loans and asset finance facilities are available for up to six years, with overdrafts and invoice finance available for up to three years.
Future Fund: Breakthrough - which will launch in early Summer 2021, is a new £375 million scheme that will encourage private investors to co-invest with government in high-growth innovative firms. These R&D intensive companies accelerate the deployment of breakthrough technologies which can transform major industries, develop new medicines, and support the UK transition to a net zero economy.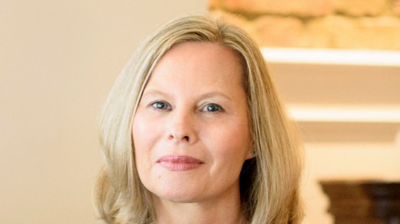 Catherine Lewis La Torre (pictured above), chief executive of the BBB, said: "The Chancellor has confirmed the BBB's central role in the next phase of the UK's economic recovery from Covid-19. As businesses begin to plan for the post-Covid period, they will need targeted finance to support them. We welcome today's announcement of the two new schemes which will help drive the innovation and growth needed to support the UK's long-term prosperity."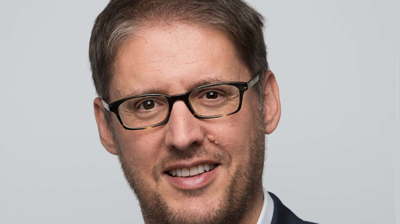 Tony Danker (pictured above), director-general of the Confederation of British Industry, said: "This budget succeeds strongly in protecting the economy now and kickstarting recovery. It leaves open the question of UK competitiveness long term. Thousands of firms will be relieved to receive support to finish the job and get through the coming months. The Budget also has a clear eye to the future; to ensure finances are sustainable, while building confidence and investment in a lasting recovery.
"The super deduction should be a real catalyst for firms to greenlight investment decisions. The boldness of the Chancellor on this measure is to be admired. But moving Corporation Tax to 25% in one leap will cause a sharp intake of breath for many businesses and sends a worrying signal to those planning to invest in the UK.
"The government must now have a laser-like focus on the UK's competitive position in the round, including fundamental reform of the unfair business rates system. The UK must remain attractive for every type of business, from the innovative homegrown firms to the larger global firms."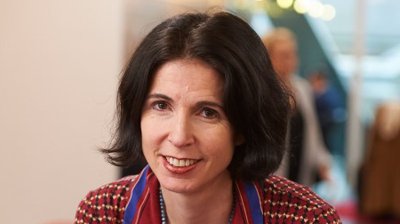 Rain Newton-Smith (pictured above), chief economist at the Confederation of British Industry, said: "The Chancellor unveiled a series of important business support measures that will provide vital room for firms, cushioning them until demand returns to offices and high streets across the country. The new recovery loan scheme will come as a huge relief to firms worried about the conclusion of the business interruption and bounce back loans.
"Looking ahead, the Chancellor also announced a number of innovative measures aimed at boosting international links, levelling up regional economies, deliver net zero commitments and helping firms hire the people and skills they need.
"Hydrogen investment in Holyhead and the announcement of a new green bond, alongside additional support for floating wind, energy storage and biomass schemes, reaffirm the UK's commitment to net zero ahead of the COP26 summit. Further action on transport and building decarbonisation is now needed to make this a truly green recovery."