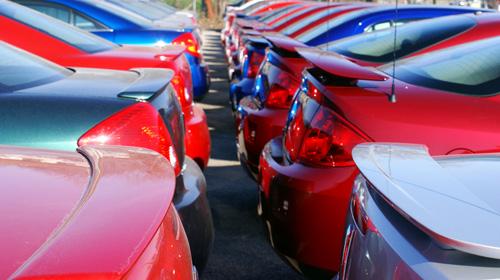 The average amount financed for new and used cars reached a new record in the UK during November last year, despite faltering sales.
The average amount financed per new car was £20,770 (calculated by dividing the total amount financed by the number of new cars funded), while average used car finance reached £12,499.
The figures are based on data from the Finance and Leasing Association, which showed total point of sale car finance rose 2% in November compared to the same month last year, against a 1% fall in the number of cars being funded.
Funding levels were static in the new car market, against a 2% fall in the number of cars funded, while there was an increase of 5% in the amount funded in the used car market, despite static sales.
The percentage of private new car sales financed by FLA members through the POS was 91.2% in the year to the end of November.
Commenting on the figures, Geraldine Kilkelly, Head of Research and Chief Economist at the FLA, said: "The POS consumer car finance market is on course for single-digit new business volumes growth in 2018 as a whole, despite the quieter performance of the market in November."
UK POS car finance market - Average amount financed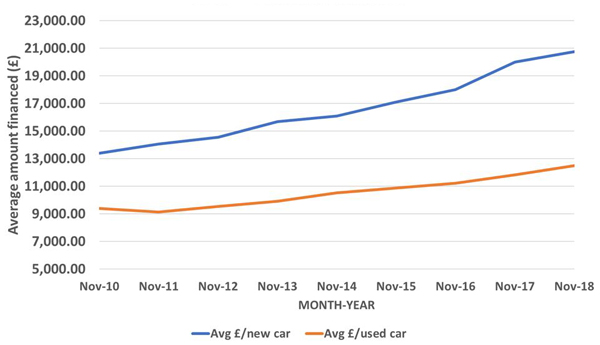 Cars bought on finance by consumers through dealerships
New business
Nov 2018

% change on

prev. year

3 months to

Nov 2018

% change on

prev. year

12 months to

Nov 2018

% change on

prev. year

New cars
Value of advances (£m)
1,411
0
5,418
-6
19,378
+2
Number of cars
67,936
-2
263,085
-9
961,990
-3

Used cars

Value of advances (£m)
1,350
+5
4,400
+9
17,463
+13
Number of cars
108,012
0
355,868
+4
1,454,568
+7
Total cars
Value of advances (£m)
2,761
+2
9,818
0
36,841
+7

Number of cars

175,948
-1
618,953
-2
2,416,558
+3