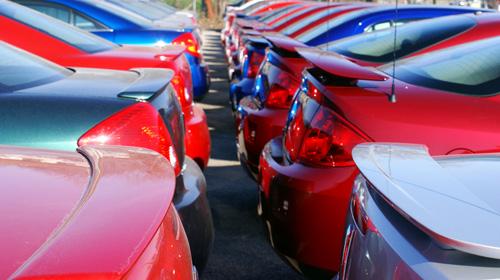 New business in the UK point of sale (POS) consumer new car finance market grew 3% last year, despite customers funding fewer vehicles.
According to the Finance and Leasing Association, the number of new cars financed by its members fell 3% to 960,000, reflecting a fall in the overall UK new car market, but the amount advanced rose to more than £19.3 billion.
The percentage of private new car sales financed by FLA members through the POS was 91.2% in the 12 months to December last year.
The average amount financed for new cars also reached a new high in December at £21,239.
The used car market saw substantial increases in vehicle volumes and the value of finance.
During 2018, the value of used car advances rose 13% to nearly £17.6 billion and volumes neared 1.5 million, a rise of 7% year-on-year.
Geraldine Kilkelly, head of research and chief economist at the FLA, said: "The POS consumer car finance market grew in 2018 in line with expectations, with new business volumes 3% higher than in 2017.
"The market is likely to report stable new business volumes in 2019 as a whole if there is a reduction in the current uncertainty about the economic outlook."
Cars bought on finance by consumers through dealerships
New business
Dec 18

% change on

prev yr

3 mths to

Dec 18

% change on

prev yr

12 mths to

Dec 18

% change on

prev yr

New cars
Value of advances (£m)
1,135
0
4,028
+2
19,384
+3
Number of cars
53,439
-4
193,352
-1
959,729
-3

Used cars

Value of advances (£m)
1,060
+9
4,005
+10
17,571
+13
Number of cars
84,907
+5
323,543
+5
1,459,136
+7
Total cars
Value of advances (£m)
2,195
+4
8,032
+6
36,955
+7

Number of cars

138,346
+1
516,895
+2
2,418,865
+3
UK POS car finance market - Average amount financed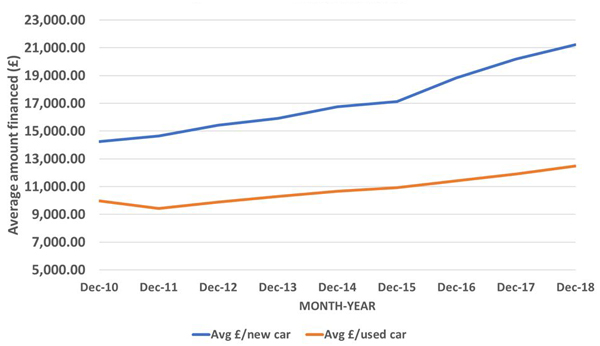 Demand for new and used auto finance at point of sale (UK) - 2010-2018