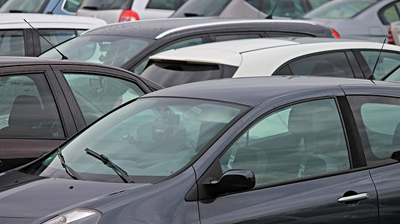 Britain's used car market dropped slightly last year, although sales were still the third highest on record.
In total, there were nearly 8 million used car transactions last year, a fall of just over 2.1%, according to new figures from the Society of Motor
Manufacturers and Traders.
The decline was caused by a drop in sales of petrol vehicles, which fell 4.2% compared to 2017, while diesel sales rose 0.3%.
This is in stark contrast to the new car market, where diesel sales were down around one-third last year as buyers were discouraged by government tax policies, particularly for company cars, and proposals for clean air zones among local authorities.
Falling demand was offset partly by a rapid rise in the popularity of alternatively-fuelled cars, with sales of hybrid, plug-in hybrid and battery electric cars rising 27% to nearly 107,000 as supply became more plentiful.
Mike Hawes, CEO of the SMMT, said: "It's encouraging to see more used car buyers snapping up low-emission vehicles as supply grows – but those sales remain low as an overall proportion of the market.
"We still need the right policies and incentives from government to give new car buyers confidence to choose the cleanest petrol, diesel and electric models that best suit their needs, so that even more drivers can benefit from this exciting technology as it filters down to the used market in the coming years."
Across the used car market, superminis remained the largest segment during 2018, with a 33% market share, although sales fell 3.7% to just over 2.6 million.
All other segments recorded falls over the period apart from SUVs and executive cars, which rose 9.3% and 2.3% respectively.
The Ford Fiesta was the top-selling used car, while the most popular colour was black, closely followed by silver and blue.
Top 10 models in 2018
| Model | No. transactions |
| --- | --- |
| 1 - Ford Fiesta | 360,868 |
| 2 - Ford Focus | 322,532 |
| 3 - Vauxhall Corsa | 313,702 |
| 4 - Volkswagen Golf | 262,508 |
| 5 - Vauxhall Astra | 262,201 |
| 6 - BMW 3 Series | 194,164 |
| 7 - MINI | 160,258 |
| 8 - Volkswagen Polo | 155,468 |
| 9 - Renault Clio | 137,180 |
| 10 - Audi A3 | 119,545 |
UK used car transactions: Q4 2018 and % change on 2017
| | Q4 2018 | Q4 2017 | % change | Year-to-date 2018 | Year-to-date 2017 | % change |
| --- | --- | --- | --- | --- | --- | --- |
| Used cars | 1,762,493 | 1,774,832 | -0.7% | 7,945,040 | 8,113,020 | -2.1% |