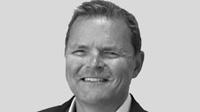 The former chief executive of RBS's UK corporate bank, Mark Catton, has been appointed as the new group chief executive of Henry Howard Finance Group.
Catton will take over from the current group CEO and co-founder Mark Crook, who will remain on the board of directors, with a specific remit of looking at new growth opportunities for the group.
Last year, Henry Howard Finance provided £104m of asset-based finance to more than 8,000 businesses, in addition to a further £100m lending through invoice discounting facilities.
Crook said: "This latest announcement represents an exciting new chapter, both for myself and for the group, as we plan for the next phase of growth and investment."
Catton has more than 25 years of experience in financial services, including leading RBS's UK corporate bank, as a non-executive director of Direct Line Group, and managing director at Barclays.
Catton said: "Henry Howard Finance is already a success story. We're supporting UK companies of all shapes and sizes and I am incredibly excited about the opportunities that lie ahead.
"The SME finance market has been through a tumultuous few years, but with the backing of investors like Cabot Square Capital and the British Business Bank, HHF has emerged as a serious player.''
Henry Howard Finance Group has five business divisions that support the SME market, covering asset finance, vendor finance, retail finance, cash flow finance, and property finance.