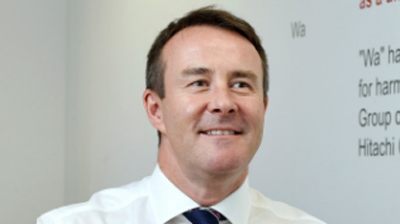 Hitachi Capital (UK) has appointed Jonathan Biggin as chief operating officer to drive forward growth and digital investment.
He brings more than 20 years' experience in financial services to the role, having held senior positions at large financial institutions including Barclays, American Express, Bank of America and, most recently, Lloyds Banking Group.
The appointment comes as Hitachi Capital (UK) looks to build on its nine years of consecutive growth, having announced pre-tax profits of £116.4 million for 2017-18.
In addition to leading the integration of new technology within the organisation, he will play an important role in utilising data from across the group.
Robert Gordon, CEO of Hitachi Capital (UK), said: "After nearly a decade of rapid growth, Hitachi Capital (UK) is still hungry to evolve as a business. The appointment is testament to our quest for continuous improvement in the customer experience and the flexibility of product mix which we offer our customers.
"I am hugely excited to welcome Jonathan to the team. His significant experience will be valuable in bringing our operations together, driving efficiency and strengthening our senior leadership team."
Biggin said: "Hitachi Capital (UK) has a strong reputation as a forward-thinking finance provider and, as the recent financial results have shown, we are a top performer in the industry.
"Using technology to solve problems and create opportunities is something that I find very exciting and I see not only opportunities to continue to build on the strong foundations of the existing business, but also create new channels and propositions for customers."
This is the second senior hire for the business in recent months, following the appointment of John Shiels as Chief Risk Officer in February.
Hitachi Capital (UK) has more than 1,200 employees, £4.8 billion of net earning assets and over 1.2 million customers across its five business units; Consumer Finance, Vehicle Solutions, Business Finance, Invoice Finance and European Vendor Solutions.