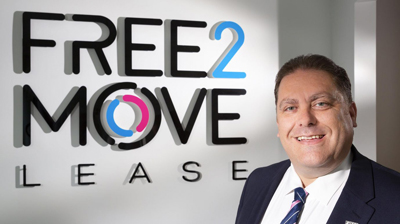 Free2Move Lease, the wholly-owned subsidiary of PSA Group, has appointed Mark Pickles as UK general manager.
He replaces Duncan Chumley, former Free2Move Lease UK managing director, who has left the company.
Pickles is a veteran of the group, having previously undertaken a number of senior roles since joining in 2000, including Peugeot UK marketing director.
He said: "Free2Move Lease is the UK's 7th largest leasing company and has a fantastic range of leasing products and services to offer business customers.
"We have ambitious plans to expand our product offering and bring more customers on board, as well as continuing to develop the support we offer our existing customers and dealers. I am delighted to be leading the business into the next phase of its development."
Free2Move Lease is also present in France, Belgium, Germany, Spain and Italy, providing leasing products and services, including connected vehicle solutions.
The UK-arm announced this year it is aiming to grow over the next five years to a total fleet of 100,000 vehicles, compared to a total of just over 60,000 cars and vans currently.
Across Europe, it manages more than 400,000 vehicles including 60,000 that use connected services.
Earlier this year, Free2Move Lease launched a new telematics service for fleets, called Connect Fleet, which offers vehicle tracking and enhanced services including geo-fencing, which alerts managers if a vehicle enters or leaves a specific location.
In addition to being able to track drivers' hours, mileage and fuel consumption, the system can also monitor for key safety issues, such as harsh braking or acceleration, to build a performance profile so employers can provide feedback and advice, ensuring employees are safe and cost-efficient.
As Free2Move is a multi-marque leasing company, the service is available on all brands, but PSA Group products can arrive factory-fitted with Connect Fleet.