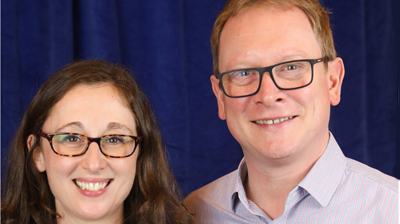 APD Global Research has appointed Kathryn Courtenay-Evans as UK managing director.
Courtenay-Evans (pictured left), formerly commercial director, will focus on growing the company's utility and non-automotive client base and will report to executive chairman Paul Turner.
The company has also promoted Karl Fisher (pictured right) to client services director from his previous role as operations director to support existing customers and build its automotive business.
Fisher will also be responsible for helping clients to implement changes based on APD's research project findings.
Turner is also taking on the additional role of managing director of APD Australia to strengthen links between the UK and Australian management teams. He will help to widen the product portfolio for Asia Pacific, oversee a move to new offices in Melbourne and manage expansion of the Australian team.
He said: "Kathryn and Karl's promotions are well deserved, and they come at a time when companies are investing more time in improving their customer insights and experience.
"Their contributions to the growth of APD and vision for the future align perfectly with the ideals on which the business was started in 2003."
His expanded role follows the departure of Paul Steed from the business to pursue other roles.
Turner said: "Paul Steed's achievements in building APD Australia into an innovative and successful company will leave a lasting legacy which we will protect and build upon."
As part of the changes, Rob Whalley becomes director of the business.
The new roles come after a successful year for APD globally, with revenue growth of 32% as it reported increased demand for its Voice360 and Talkback360 customer experience platforms worldwide.
Turner added: "Uptake has been particularly high in the broker sectors and with the emerging B2C leasing sector as it adapts to the changes in business driver use."
Customers for its market research programmes have included iVendi and The Broker Leasing Federation, while it also launched an industry-first partnership with global reviews platform Feefo to raise the profile of its clients.
It also attracted new clients for its augmented intelligence and connected intelligence products.
"Last year's performance and our fast start in 2019 has been a justification of the inward investment decisions we took in 2017 to move our technology forward, and widen the range of sectors and spread of customers we work with," Turner said. "Our responsibility is to continue to future proof for our clients the depth and accuracy of customer information upon which they can make informed decisions to build and deliver their business strategies."