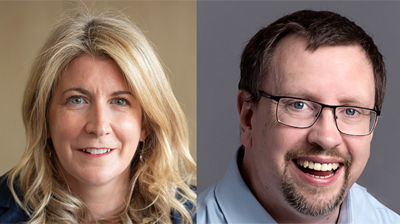 Auxillias has announced two new hires, which the specialist firm says will enable the business to strengthen its legal, governance and compliance services offering as one solution to its clients. The appointment of Simon Brown as director of compliance and training and Carrie Stephenson as director of legal and governance, is in line with its strategy of continuing to respond to client feedback and providing an offering which meets their demands.
Brown will shortly be launching Auxillias' compliance offering to work alongside its market-leading legal team by supporting the ongoing demand for compliance in the consumer credit and asset/motor finance sector. The team is seeing steady growth in instructions to support clients to help them respond to compliance work following the findings of the FCA's motor finance market study. He will also further develop Auxillias' training offering so more clients will be able to access high quality training materials via different channels and demonstrate the competence of their staff to the regulator.
Brown has established a significant track record in delivering compliance solutions to consumer finance firms over the last 20 years and has worked in a head of compliance capacity at a number of companies including Non Standard Finance, Oakbrook Finance and Volkswagen Financial Services. He has extensive experience in working with firms to design, develop and enhance their compliance frameworks. An expert in the FCA's conduct rules for Consumer Credit as well as the methodology of running a successful compliance programme, Brown has direct experience working on authorisations, supervision and thematic reviews, and also develops and maintains effective relationships with the regulator on behalf of his clients.
Stephenson will be leading Auxillias' commercial and governance functions. Her extensive knowledge and expertise will help ensure that clients are able to balance both desired commercial outcomes and the need to integrate underlying principles of corporate governance and ESG into broader business strategy. As a corporate and commercial law specialist, she will also support clients on the key legal areas they navigate on a daily basis.
Stephenson has over ten years of experience operating as a member of the C-suite and as a legal, compliance and regulatory advisor to boards within the automotive, online retail and financial services sector. She joins Auxillias from Mitsubishi Motors UK, where she most recently held the role of general counsel and company secretary. Her role included head of legal and governance, data protection officer and chair of the risk and compliance committee with overall responsibility for the legal, compliance oversight, risk management and corporate governance functions. Previous roles include operating as a board trustee for a DB retirement benefits scheme and working for several national UK law firms specialising in providing general commercial advice and litigation.
Jo Davis, CEO, Auxillias commented: "Since Auxillias was founded, we have offered not only the standard legal advisory support, but have also provided clients with consultancy, regulatory, compliance, advisory and training support, all under one roof. Following a successful first 18 months, we are gearing up for the next stage of our journey. With Carrie and Simon joining us, we will be able to provide an even broader, more in-depth offering to our clients. We are delighted to welcome them to the team at an exciting time of the business's development!"