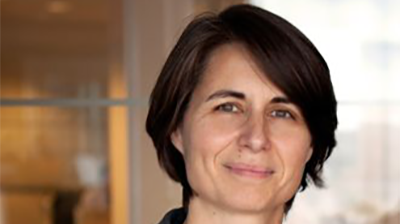 Societe Generale has named Odile de Saivre as CEO of Societe Generale Equipment Finance (SGEF), effective as of 1 September. She succeeds Jochen Jehmlich, who has decided to retire and fully devote himself to personal projects after more than 20 years with the bank.
De Saivre has been deputy CEO of SGEF since 2917 and a member of the management committee. In her new role she will report to Diony Lebot, deputy CEO of the Group.
SGEF said that de Saivre will continue to maintain the company's focus on sustainability, supporting the growth of customers and vendor partners while also seeking ways to optimize life cycle management and promote access to equipment and technologies emitting less CO2.
This approach will also involve new partnership relationships with manufacturers and distributors engaged in the sustainable economy, and developing innovative financing solutions that are better for the environment.
"We warmly thank Jochen Jehmich for his great commitment as Chief Executive Office of GEFA Bank in Germany and Societe Generale Equipment Finance. Alongside Odile de Saivre, he was able to transform the business and position us as a worldwide partner for integrated equipment solutions. We are confident in Odile's ability to continue the transformation of Societe Generale Equipment Finance and to create a stainable and positive impact. We wish her much success in her new role." said Diony Lebot, deputy CEO of the Group.
De Saivre joined Societe Generale in 1997 in the equity capital market team within Societe Generale Corporate and Investment Banking (SG CIB). She spent most of her career in SG CIB, notably in the strategic and acquisition finance department as well as in asset based finance. In 2010, she headed the global finance team in charge of credit risk monitoring before moving to Russia as deputy head of corporate lending department. In 2015, she was in charge of the project export finance team within global finance's export finance business line, before take up the position of deputy CEO of SGEF in 2017.