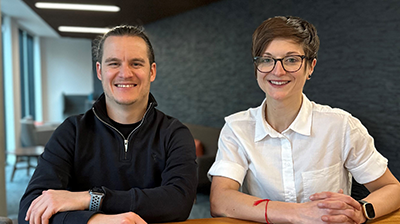 MotoNovo Finance's 'Generating Real Opportunities for Women' (GROW) network, which promotes the importance of increasing female representation in motor retailing and of creating and delivering career opportunities for women, is living up to its name and growing its membership. It has also appointed a new leadership team to take it to the next level, and in an appropriate diversity move, that leadership is now gender balanced.
Motor Development Manager, Emily Birkinshaw and Senior Digital Experience Manager Ben Winton have taken the reins as co-chairs and are ready to build on the network's solid foundations.
Reflecting on the success of GROW and its next steps, MotoNovo's Commercial Director Debbie McKay notes, "GROW continues to increase its footprint across our dealer community, educating and encouraging dealers to address the obvious gender imbalance in motor retailing. In appointing this year's leadership team, the option to go for gender balance perfectly reflects our vision for the future of our industry".
In taking on the joint leadership, Emily is very clear that she welcomes the opportunity of promoting an increased profile for women working right across motor retailing: "47% of people in the UK workforce are women, yet just 12% of people in the car business, are women. The very apparent gender imbalance is in stark contrast with the influence of women in car buying. Women are the economic powerhouses behind many car-buying choices influencing eight out of ten car sales in the UK.
"Motor retailing needs to be better aligned with the dynamics of the car-buying community. At GROW, we aim to help the retail community address this issue and with retailing models undergoing unprecedented transformation, I'm convinced that greater gender diversity in our industry can help meet the changing car buying and usage dynamics we see around us."
With increased regulatory and investment focus on diversity, equity and inclusion and the launch of the FCA's Consumer Duty, GROW is set to step up its programme of webinars and events in 2023, as Ben concludes: "Social, economic and regulatory change are re-shaping the automotive industry. The momentum behind diversity and inclusion, which includes gender diversity, cannot be ignored. Motor retailing at all levels has to be relevant to this changing landscape led by the increasingly dominant Millennial and Gen Z generations. Through GROW, we aim to help more dealers to recognise the need and opportunities for positive change."