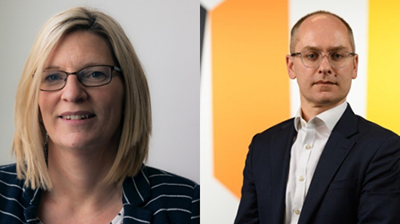 The Finance & Leasing Association (FLA) has today appointed two new Board Directors – Emma Powell, Chief Risk and Compliance Officer at Admiral Money, and Lee Rhodes, Commercial Director at Aldermore Bank.
With more than 18 years' experience in financial services, Emma's impressive credentials span a number of senior leadership roles, including Head of Compliance and Risk at Admiral Money, and latterly Chief Operating Officer, prior to her current role as Chief Risk Officer.
Lee is a senior figure in the asset finance sector with more than 20 years' experience. His career includes several senior roles with key industry lenders, and after joining Aldermore Bank in 2014 as Head of Wholesale and Structured Finance, he became Commercial Director of Asset Finance in 2020.
Stephen Haddrill, Director General of the FLA: "I am very pleased indeed to welcome Emma and Lee to the Board. Their industry experience and specialist knowledge will be invaluable. I look forward to working with them both."
Emma Powell added: "I'm honoured to be joining the FLA Board at such a pivotal time within consumer credit. I look forward to the work we will do together to help shape the future of credit and drive further positive outcomes for consumers."
Lee Rhodes added: "I'm delighted to have been appointed to the FLA board. It will be a privilege to use my experience and expertise to support the FLA and help members navigate their way through current market challenges."
Tabitha Brace, Senior Vice President at Volvo Financial Services, and current FLA board member, has been elected Chair of the Asset Finance Division Management Committee – replacing John Phillipou following his appointment in September as Chair of the FLA.