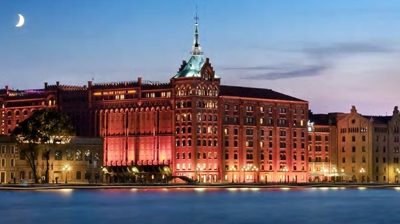 "The fox knows many things, but the hedgehog knows one big thing" - Archilochus
At the Leaseurope 2018 Annual Convention last week, keynote speaker Silvija Seres from Nordic investment firm Technorocks called on delegates to be both hedgehog and fox.
The wide variety of convention sessions set out to help delegates do just that over the two-day event at the Hilton Molino Stucky, Venice, which was attended by 400 industry leaders from 30 countries,
The 'big thing' the hedgehog should know, Silves suggested, is digital transformation.
This is much more than just digitalisation, which has been around for 15 years already. Digital transformation is about implementing new business models that radically improve the efficiency of industry value chains. It uses new and emerging technology, masses of data, and workers with new skill sets.
The fox has the broader knowledge of what drives efficiency across the leasing industry value chain.
Here's just a taste of what the fox might have learned at the 2018 convention.
Vendor relations are a key enabler of improvements to the leasing value chain
In the customary opening session exploring the state of play in the market, chaired by Peter-Jan Bentein of the Dutch Leasing Association, the panel noted that the Leaseurope ranking survey of the top European lessors shows vendor to be the largest channel of distribution for equipment leasing.
Many factors explain this and demonstrate the importance of vendor relations in emerging leasing business models:
The shift from traditional financing of business assets to financing of service arrangements that use assets;
The shift towards the circular economy with a requirement to lease used and refurbished equipment, that requires a 'different mindset' amongst people in credit and legal teams; and
The shift towards sustainable finance, with lessors able to share usage and location data that is 'invaluable' to vendors in helping to optimise the efficiency of their equipment.
The panel included Robert Gordon of Hitachi Capital, Massimo Macciocchi of Banca IFIS Impresa, Alexander Mikhaylov of Europlan, David Schaefer, representing ELFA from the USA, and Miranda Stokkingreef of ABM Amro.
The perimeters of leasing firms are changing with cross-industry platforms
Leasing companies need to rethink what needs to be proprietary to their firms, and what can more usefully be shared with others, according to panel members at a session on 'Efficient management of leasing and automotive rental operations'. The session, chaired by Patrick Beselaere, global head of ING Lease Europe, explored how leasing firms of the future might be organised.
Achieving systems that deliver what lessees need, whilst meeting ever-increasing regulatory and cybersecurity requirements, can require shared technology platforms.
The speakers suggested:
Firms in the industry connect together equipment from different manufacturers, so they may value a financing platform that includes multiple captive funders;
Users of mobility platforms want access to a range of different vehicle and other solutions from multiple providers; and
In other parts of the financial services market, major financial institutions already share common platforms for key support activities - so to achieve optimum efficiency and resilience should leasing companies share investment in a similar way?
Being open-minded in using cross-industry platforms means acknowledging that no firm can do everything itself and rethinking what has to remain proprietary to the firm. But sharing platforms doesn't mean that leasing firms should become any less competitive, panel members Hans-Joachim Dörr of Trumpf, Pascal Layan of BNP Paribas, and Khaled Shahbo of Enterprise, agreed.
Investor capital is waiting to be deployed, but first we need to win investors' confidence
As session chair Enrico Duranti of Iccrea Bancalmpresa put it in his introduction to a session on 'Efficient capital', we hear a lot about innovations in products, operations and coping with regulation, but innovation in funding has attracted less attention. The session explored the need for new sources of capital and how to attract non-bank investors.
More capital is coming into the market from outside of banks and is increasingly going to be needed as the market shifts from traditional leases to more services-based solutions that can be less attractive under bank capital regulation, Tony Mallin of Star Capital suggested.
In a case study of ALD's recent partial listing, Hans van Beeck, the firm's head of investor relations, described the importance of concentrating on the key concerns of potential investors and the need to provide highly relevant data.
Paolo Conti, of ratings agency DBRS, noted that the Peer-to-Peer lending sector had gained confidence of investors relatively quickly through firms working together to make detailed cross-industry data available.
Managing cost of risk is increasingly about data
Changes to regulation, including accounting standard IFRS 9 and the Basel IV capital rules, are starting to impact the capital efficiency of leasing for banks, it was suggested in a session called 'Efficient management of cost of risk', chaired by George Ashworth of Santander UK.
Panel members Jean-Paul van Grinsven of ING, Mark Main of EY and Ingrid Pompe of DLL, discussed how lessors can continue to optimise how the risk benefits of leasing are treated for accounting and capital regulation purposes, compared to other forms of finance.
Apart from continued lobbying of regulators, lessors need to collect more data than ever to support estimates of defaults and possible losses.
For now, this information is currently obtained mainly from within leasing companies, with best practice being to involve employees from different functions to develop integrated risk management procedures and data.
In the future, new industry-wide data sources could also help to provide the highest quality "reasonable and supportable information" that the regulation requires.
Despite digital transformation, leasing will remain a people business
"The fox knows what the hedgehog doesn't", which is that despite the importance and inevitability of digital transformation, leasing is and will remain a people business.
As Robert Gordon of Hitachi Capital explained, leasing businesses are about people talking to people to solve problems.
There is plenty of scope for digital transformation of the leasing value chain, but should that replace the role of specialists in supporting businesses to meet their needs? "I hope not," he said.
Joint keynote speaker Oscar Farinetti, creator and founder of upmarket Italian food stores Eataly, said that people need to be at the heart of any company's business strategy.
In his celebration of Italian culture and diversity, Farinetti said that businesses need good people (Eataly hires people who are "righteous, kind, and hardworking") and any business strategy should be defined around them.
Farinetti's presentation was a passionate and down-to-earth view from one of Italy's foremost business leaders, offering a strong reminder that digital transformation is no panacea and must be planned alongside other strategic drivers of the future success of individual leasing firms and the wider European leasing industry.
Other sessions at the Leaseurope convention included the ever-popular Future Group that featured winning ideas on shaping the leasing industry's future from the top young talent in the European industry, chaired by Chris Boobyer of Invigors. It included a review of the challenges facing the motor finance and rental industries chaired by Gerry Keaney, chief executive of the BVRLA.