Industry expert Julian Rose has revised and updated the A to Z of Leasing and Asset Finance, following on from the launch edition, which sold more than 650 copies when it was published in 2017. The second edition includes around 50 additional terms and definitions of over 100 existing terms have been expanded or updated.
Examples of new terms that Julian has included are: business debtline (free online debt advice for the self-employed and small businesses), fintech (technological innovation in the financial services sector), standby operator (when a lessor sells a portfolio of receivables but continues to manage the agreements on behalf of the buyer), and substitutability (under IFRS 16 where a lease allows the lessor to routinely change assets during the agreement for commercial reasons).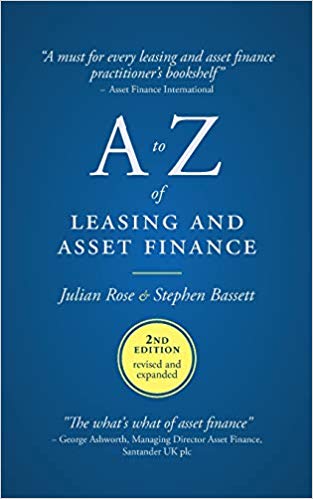 Written in conjunction with industry veteran Stephen Bassett, a principal aim of the guide is to help companies with training and to this end it includes a short quiz containing some 30 questions to test understanding of key terms.
Industry staff can also study the terms relevant to a particular aspect of asset finance – such as risk or accounting – by using the index section towards the end of the book.
The importance of this guide is highlighted in the foreword by Nathan Mollett, head of asset finance, Metro Bank, who says: "We need to show the importance of leasing and asset finance to a well-functioning economy and the wider society if we want to continue attracting the brightest new talent into our sector.
"To attract the very best we need to focus on communicating the principles and purpose of what we do and setting out the terminology of the industry is one element of this."
The A to Z of Leasing and Asset Finance consists of 204 pages and costs £30. Copies can be ordered direct from Julian Rose at julian@assetfinancepolicy.co.uk.
* Readers of Asset Finance International are eligible for a 20% reduction on the cover price if ordered prior to May 10, 2019. Simply quote AFI2019 when ordering.