With the agenda for the largest asset finance event in Europe shaping up to be a fascinating insight into the way the industry is transforming, preparations for the latest International Asset Finance Network (IAFN) Conference are well underway.
With the 12 December deadline drawing closer, staff at IAFN have been working tirelessly over the last few months to gather a group of industry titans to present their innovative ideas at the venue in 155 Bishopsgate, London, EC1M.
With the tagline "Be smart: how to lead in next generation auto and equipment finance", the conference has attracted senior speakers from the UK, the US, Spain, Italy, France, India, Ireland, Germany, and Israel, and is set to address the key drivers of change across consumer and business auto and equipment finance.
Topics we will be examining will include:
The impact of electrification on the auto finance industry;
How to operationalise servitisation using AI;
Driving fleet: managing the transition from business leasing to consumer and business mobility;
Managing the customer on behalf of the OEM: how to optimize the trade cycle and maximize the value-adds from auto finance;
Global specialists – how big banks will seek to impact tomorrow's equipment finance market;
Why next generation auto finance will be dominated by OEMs and captives;
Manufacturers increased focus on services: opportunities for banks and independent equipment finance providers;
Effect on the trade cycle of a shift from PCP to leasing;
Is the era of independent asset finance specialists over?
Opportunities to develop new revenue streams from data and services;
India – Awakening to New Models in Asset Financing.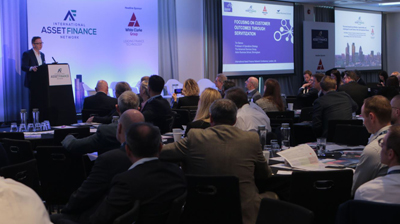 PowerUp Winter
As ever, companies in the financial services industry are quick to adopt emerging technologies, and with the benefits of Machine Learning (ML) and Artificial Intelligence (AI) becoming increasingly clear, it's no wonder why.
Research analyst Autonomous have estimated that the savings across front, middle, and back offices can be as much as 20%, and that the global impact of AI and ML is over $1 trillion to date.
As such, part of the IAFN event is going to include a PowerUP LONDON Winter 2019 section focusing on the recent, and future changes in auto and equipment finance brought about by ML and AI.
Winners will be selected in three categories:
Innovators - a chance for finance organisations to showcase how their technology helps manage the customer journey, reduce costs or exploit the data flowing from assets.
Changemakers - for emerging ML and AI startups who have caught the eye of established auto and equipment finance companies for their innovative platforms and services.
Techstars – for companies that have innovative AI and ML technologies.
Awards
Finally, don't miss out on our annual awards which celebrate innovation in auto and equipment finance - we have 12 categories up for grabs. For more details on the upcoming conference please go to: https://www.internationalassetfinance.net/
We look forward to seeing you on December 12th!
Highlights from the IAFN Conference in June