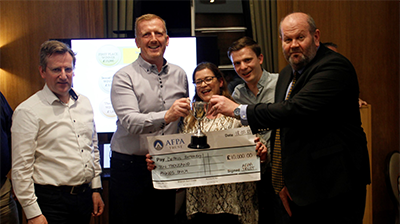 Parent bank, OSB Group plc, has agreed to match InterBay Asset Finance's £10,000 first prize win from the AFPA Trust Big Quiz for homeless charity Depaul UK, who will now be receiving a massive £20,000!
Depaul UK works to provide safe housing, practical support and education opportunities for young people who are homeless or at risk of homelessness. Their vision is to end homelessness and change the lives of those affected by it.
Sarah Williams, Director of Philanthropy and Partnerships at Depaul UK said, "We are delighted to hear that OSB have so generously offered to match the donation made on behalf of Interbay Asset Finance. The donation will go towards supporting young people who are at risk of, or experiencing, homelessness and will support them towards a healthier more independent future."
In a close and exciting competition with only two points separating the top three and four points separating the top six teams, InterBay Asset Finance's quizzing team took first place in the inaugural AFPA Trust Big Quiz, winning £10,000 for their chosen charity along with the Rivermore Asset Finance Trophy.
Paul Fazakerley, Managing Director of InterBay Asset Finance commented, "InterBay Asset Finance are proud to have won the inaugural AFPA Quiz against very stiff competition from across the asset finance industry. It was closely fought and we are delighted to have won both the Rivermore Trophy and £10,000 for our chosen charity, Depaul, which helps homeless young people. It was an extremely well-organised event and we will definitely be back next year to defend our trophy and would encourage others to submit teams next year to help raise much-needed funds for charity."
The AFPA Trust Big Quiz was sponsored by LTi Technology Solutions, Paragon Bank, Close Brothers, VitrX, Rivermore Asset Finance, Acquis Data Services, Cordoba Rewards and Asset Finance Connect.
For details of AFPA Trust events, please visit https://www.afpatrust.com.