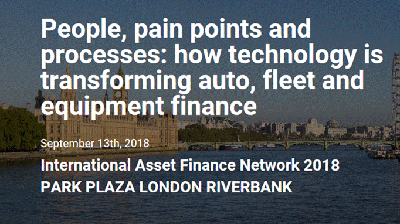 More than 350 key figures from the global auto, equipment and fleet finance sectors will be attending the International Asset Finance Network conference and dinner this week.
The conference will be held in association with the Leasing Foundation on September 13, at the Park Plaza Riverbank, London.
Among the key speakers are:
Auto retail
Giacomo Carelli, CEO and general manager FCA Bank
Chris Ballinger, CEO, MOBI
Tony Douglas, head of brand, marketing and communications, BMW Group Mobility Services
Equipment finance
Jonathan Andrew, global chief executive, commercial finance, Siemens Financial Services
Jon Maycock, managing director, asset finance, Hampshire Trust Bank
Nathan Mollett, director, asset finance, Metro Bank;
Gavin Wraith-Carter, managing director, Hitachi Capital (UK), Business Finance
Duncan Hullis, country manager UK, De Lage Landen
Fleet
Miguel Cabaca, managing director, Arval UK
Tim Porter, managing director, Lex Autolease
Duncan Chumley, managing director, Free2Move Lease
John Saffrett, chief operating officer, ALD SA
Fintech
Christoph Rieche, CEO and founder, iwoca
Richard Laughton, CEO, easyCar
Dan Robinson, CEO and Founder, Farm-r
In addition to a packed line-up of industry experts, the event will also see the first industry finance dragons session, where delegates can vote for their favourite industry innovation after they are presented to four finance dragons from fleet, retail auto, equipment and technology. The winner will receive the IAFN/Leasing Foundation Innovation Award.
In the evening, there is also the chance to join hundreds of guests at the International Asset Finance Network awards dinner, where trophies will be handed to winners in categories including CEO of the Year in auto and equipment finance, Personality of the Year in auto and equipment finance, Best Small Finance Provider, New Entrant of the Year, Award for Investment in People, Best Use of Technology, Best Use of Data, Best Customer Service and Best Product of Service.
Powered by Bizzabo