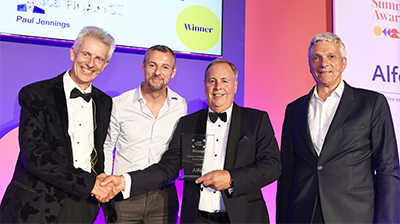 Perhaps one of the most emotional and heartfelt awards at Asset Finance Connect's Summer Awards is the Lifetime Achievement Award, sponsored by Alfa, recognising the recipient's lifelong commitment and contribution to the industry.
At the 2022 Summer Awards, the Lifetime Achievement Award was bestowed on Paul Jennings, described by the judges as "a bedrock of the industry for a very long time. However, his length of stay in his role has certainly not diminished his appetite to innovate and continue innovating."
Have you got a colleague whose dedication and contribution to the asset finance industry deserves the recognition of the 'Lifetime Achievement Award'? Nominate them today at the Asset Finance Connect's Summer Awards website. Submit your entry before 14th April.
Following 43 years' service and a highly successful tenure as Managing Director, Paul Jennings retired from JCB Finance at the end of July 2022, leaving behind an invaluable legacy with the firm he joined in 1979.
Under Paul's leadership, JCB Finance has seen significant growth with total lending currently at £1.15 billion supporting the UK JCB Dealer network and their customers in construction, agriculture and industry.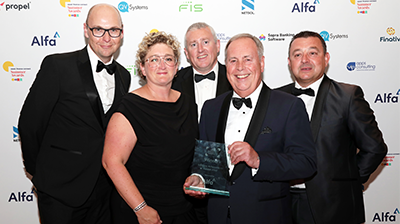 During his 43-year long career in asset finance, Paul Jennings has been a stable force for sustainability and integrity of the industry and has been a strong leader and a regular contributor to thought leadership papers and industry research studies.
Paul was relentless in his "43 year-long mission of showing how leading with finance solutions at the point of sale can help sell more machines" and now JCB boasts over 200 finance accredited sales engineers across its UK dealer network in addition to the dedicated 'boots on the ground' team of finance specialists and an effective direct and online sales operations.
Paul navigated JCB Finance through recession, financial crisis and global pandemics and was much respected by his team, key figures in the industries they serve and the asset finance community.
From 2018-22, Paul served as a Director of the Finance & Leasing Association and was Chair of the FLA Asset Finance Division, Management Committee from 2020-22.
In March 2022, Paul was granted the honorary appointment of Visiting Professor in the College of Business & Social Sciences at Aston University, Birmingham, concentrating on how servitisation and outcome-based contracts can aid the pathway to Net Zero.
"Paul has been an influential figure in the lives of many senior leaders within the asset finance community and his contagious belief in the role of asset finance in a sustainable economy will leave a legacy for many years to come."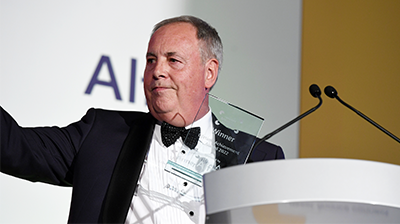 In a heartfelt acceptance speech that struck a strong chord with his audience, Jennings dedicated his award to "all the young professionals that are in the room today…I hope you remain enthusiastic and honest and hard working." As he passes the baton to the next generation of the industry, Jennings noted that "our business is about the people that are in it."
To see a full list of the award categories and individual awards, visit Asset Finance Connect's Summer Awards website, where organisations can add their nominations for award winners and book their tables for this year's must-attend event.