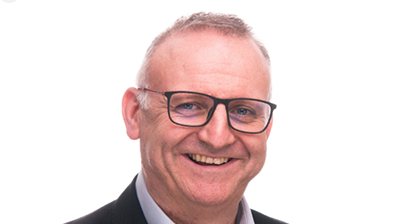 John Phillipou, managing director of SME lending at Paragon Bank and the new chair of the Finance and Leasing Association (FLA) will be interviewed on-stage by David Betteley, head of content and a former chair of the FLA at the Asset Finance Conference at etc.venues, 155 Bishopsgate, London EC1 on 29th November.
John becomes the next chair of the FLA after Rebecca McNeil stood down from the role, and from her job as CEO, retail at Close Brothers earlier this month to become Board Chair of the Women's Sport Trust.
Phillipou brings to the role wide ranging experience in a range of lenders including Deutsche Leasing (from 2004) then PEAC (from 2016) where he was managing director and CEO respectively. He joined Paragon Bank in August 2019. He is widely seen as an asset finance big hitter, and a popular choice among lenders, bringing much needed experience to the role at a time of great change for the industry. John has played a leading role as a board member of the FLA in discussions around commission disclosure, the appointed representatives regime, and the plan to agree a common audit process for brokers.
Challenges facing the industry and trade association during John's tenure will include changing economic, technology and regulatory and ESG issues – so there is lots to discuss!
Understanding and responding to the challenge of a new interest rate environment and persisting market uncertainty resulting from geo-political upheaval including the war in Ukraine, Middle East turmoil and the growing Western divide with China;
Rapid technological change including the introduction of AI, for example managing the use of data to create better outcomes for borrowers and lenders; the emergence of ChatGPT and the operationalising of machine learning;
The bedding in of Consumer Duty with its consequences – good, unintended and bad, the review of the Consumer Credit Act. The forthcoming changes to capital adequacy rules affecting lending to SMEs; and
Positioning the industry to exploit the commercial and social opportunities from sustainability
This is an opportunity for John to introduce himself to the few who do not already know him, to provide him with an opportunity to provide his vision for the industry, and to answer questions from members about how he sees his role in this important post.
If you are registered as a delegate and have a question you would like us to ask, then email davidbetteley@assetfinanceconnect.com.
For more information and to book tickets, visit the Asset Finance Connect Autumn 2023 Conference website.

Kindly supported by
| | | | |
| --- | --- | --- | --- |
| | | | |
| Headline Sponsor | Platinum Sponsor | Gold Sponsor | Silver Sponsor |
| | | | |
| Silver Sponsor | Silver Sponsor | Silver Sponsor | Fintech Innovator Sponsor |
| | | | |
| Registration & Refreshment Sponsor | Sponsor | Sponsor | Exhibitor |
| | | | |
| Legal Partner | | | |
Corporate Members