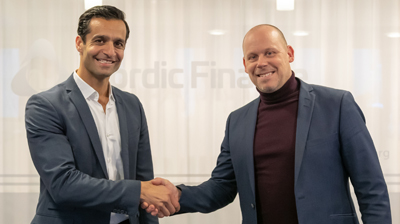 Swedish leasing broker Nordic Finance is expanding into asset finance with a focus on digitalisation and automation in partnership with software and services company Tieto.
Nordic Finance, one of Sweden's fastest growing financial companies, will launch its asset finance offering at the end of Q1 2019 and expects to have reached SEK1.5 billion (€146 million) in funding by the end of the year, expanding to SEK6 billion (€582 million) by the end of 2022.
A core part of its growth plan will be the Emric leasing platform from Tieto, with which it aims to disrupt conventional processes and provide a smoother customer experience, through digitalisation and automation.
Christian Hanson, founder and business development director of Nordic Finance, said: "Our vision is to become the fintech company of the future. We want to build great customer experiences for B2B; turning the experiences we take for granted in B2C into a reality for the leasing business.
"With Tieto's leasing platform, we have a proven, reliable, digital solution which can support our ambition to scale up and become a leasing company, quickly."
Nordic Finance will continue to offer brokering and advice, in addition to providing its own funding line.
Hanson added: "The finance companies are currently very slow in developing IT solutions. We are small, own our books, and have money to develop customer experience and solutions. I think we are in a good position to change some of the ways business is made out there."
Pedram Tadayon, vice-president, credit solutions and services at Tieto, said: "With our leasing solutions, we are not only helping Nordic Finance to grow their business and enter new market segments, but we are also providing a good foundation for them to build new services and better serve their customers."
Hanson added: "We want to drive the IT development so the customer experience for a leasing and rental agreement can be a unique, modern experience, much better than what exists now."
Nordic Finance currently has 33 employees and has offices in Stockholm, Gothenburg and Helsinki.
Pictured: Pedram Tadayon, vice-president, credit solutions and services, Tieto (left) with Christian Hanson, founder and business development director, Nordic Finance