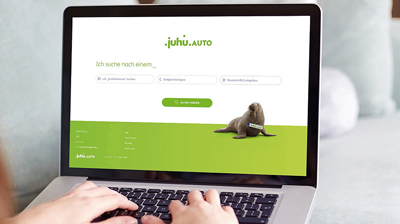 A new online used car marketplace from Société Générale subsidiary Bank Deutsches Kraftfahrzeuggewerbe has gone live for 4,500 dealers in Germany.
Called JuhuAuto, it was created by automotive e-commerce solutions provider iVendi in its first major international deal.
The marketplace delivers personalised car search results and uses BDK to pre-assess customers for motor finance to enhance their online experience.
Dr Hermann Frohnhaus, chief executive officer of BDK, said: "The launch of JuhuAuto marks a milestone in our strategy to support retail partners with effective digital solutions.
"Our platform provides car dealers with a highly attractive sales channel focused on their specific needs while at the same time delivering an exceptional user experience for car buyers."
James Tew, chief executive officer of iVendi, said the factors that drive the majority of car purchasing journeys – vehicle, location and affordability – are placed at the centre of the online process.
He added: "Some of the innovations are simple but produce excellent results – for example, all the models fitting a search are shown on a map – and our trials show they should be highly effective in use for customers.
"Our new personalisation functionality is an automotive world first. Using data from previous customer activity, it produces more appropriate results. For some people, a search for a 'fast car' means an Abarth 500 for some, but for others it is a Porsche 911. Our technology can decipher this and much more."
Dealers will be provided with a new international version of iVendi's dealer platform that will enable them to manage regulatory matters alongside finance offers.
Tew added: "The revised platform positions us very well for other international deals in the future and we are already talking to a number of motor finance providers across Europe about possible future deals."
iVendi's e-commerce products covering vehicle sales and finance are connected to more than 7,000 dealer locations in the UK.