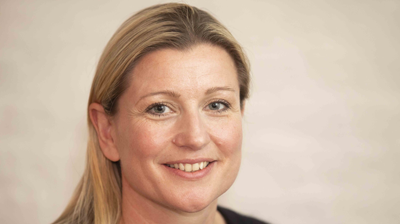 With remote working set to continue for the foreseeable future, the change in consumer behaviour and revenue reductions, some 44% of finance business decision makers state that slow running and outdated technology is currently impacting their businesses' ability to commercially develop, says a new report from IT company, Riverbed.
The research highlights the significant need for financial organisations to invest capital in next generation solutions that deliver visibility into IT performance, boost productivity, ensure business resilience and aid with the long-term economic recovery of the UK.
Furthermore, 90% of IT decision makers (ITDMs) and 86% of business decision makers (BDMs) in the financial sector see digital performance as vital to business growth.
Colette Kitterhing (pictured), senior director UK&I at Riverbed Technology, said: "During these unprecedented times where maintaining business continuity is essential, it is more important than ever for financial organisations to have the strong IT infrastructure they need for effective business operations.
"In particular, the shift to a more distributed workforce as a result of COVID-19, has emphasised the importance of visibility across network and application performance to ensure that employees can remain productive whilst working from anywhere. Given the links between IT performance, staff productivity and competitive advantage, it is encouraging to see financial decision makers recognise the importance of visibility in optimising network infrastructure."
Despite the well-known importance of implementing strong IT infrastructure in the finance sector, Riverbed pointed out that full and consistent visibility into IT performance is lacking, and that it's the inability to identify poor performance that underplays the need to invest in new technology.
The research also revealed that 81% of BDMs believed that IT employees had a comprehensive overview of applications, networks and end-users, however one in three ITDMs said they did not have this level of oversight. With this in mind, around 75% of all finance groups surveyed responded that there were numerous frustrations with the performance of their networks.
The key to a financial institution's success
Additionally, some 81% of ITDMs and BDMs in the finance sector saw visibility into network and application performance as key to both staff retention and business innovation, suggesting a link between strong IT infrastructure and financial institutions' success.
In the research, respondents were keen to suggest that the technology used by financial companies must evolve in line with the constantly changing requirements of the sector.
Some 83% of BDMs and 77% of ITDMs argued that investing in next-generation technology is vital, with a further 78% of ITDMs recognising that their IT infrastructure would need to evolve in the next five years to support new ways of doing business.
"We, at Riverbed, want to help financial ITDMs and BDMs appreciate the importance of coming together to discuss where the visibility challenges in their businesses lie and assist them in identifying which solutions will help tackle these challenges. This will ensure employees can enjoy seamless digital experiences and lay the foundation for productivity and innovation. These benefits will ultimately be passed on to the customer, helping the finance sector thrive."
Established in 2002, Riverbed works with more than 30,000 companies – including 99% of those listed on the Fortune 100 – to maximise the performance of their networks and applications in order to fully capitalize on their digital and cloud investments.