The Chatbot Revolution – the rise of digital assistants in asset finance
Complete the form below to downlo

ad your copy now
Research has shown that live chat has the highest satisfaction levels for any customer service channel.
But with a requirement for call centres, staffing, training and ongoing support, talk isn't cheap when it comes to customer service.
Automated digital assistants, or chatbots, can provide the answer to delivering the customer service levels that digital natives expect for cost-effective, efficient 24-hour support.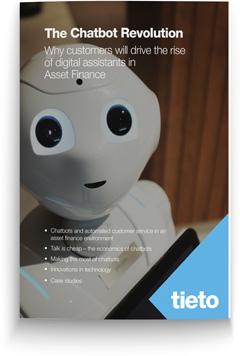 Estimates suggest the average cost of a customer transaction via phone is around $2.50, but the same digital interaction would be around $0.17.
Not only are systems sophisticated enough to engage with customers, identify their needs and answer queries in the same way a human contact would, they are now capable of managing payments and carrying out transactions.
The technology will play a key role in maintaining customer service as customers increasingly move online.
According to Gartner, by 2020 customers will manage 85% of their relationships with enterprise without interacting with a human.
For finance companies that have yet to start investigating the technology, the clock is ticking to maintain service levels and assure customer loyalty.
Chatbots and automated customer service provide critical support in the quest to meet the needs of a more demanding digital customer and at the same time ensure that legislative and risk management requirements are automatically adhered to, while providing a clear audit trail.
A newly-published whitepaper, produced by Asset Finance International, in association with Tieto and Emric, looks at the ground-breaking customer service solutions in finance that increase efficiency while meeting the needs of the 24-hour consumer.
Tieto and Emric are part of Tieto Group, a global provider of software solutions for origination and management of virtually any type of loan, mortgage, asset finance and lease.
Order your copy of The Chatbot Revolution by completing the form below