Empowered customers are driving a transformation at the heart of the auto finance industry.
As customers look for more flexible solutions and OEMs search for revenue growth, captives will have to expand their product portfolio and evolve their traditional go-to-market model.
There is growing interest within the auto finance industry in the opportunity to hold assets on the balance sheet for longer than their first life-stage and use that time to offer a range of innovative, flexible products.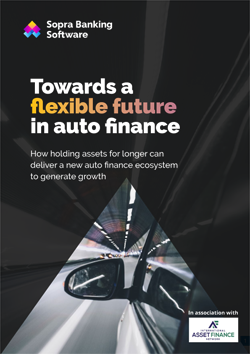 Instead of selling many cars to one customer, they will 'sell' the same car to many customers over its lifetime, with services ranging from subscription to hourly rental.
A new report launched today by Sopra Banking Software, called 'Towards a flexible future in auto finance', provides in-depth analysis of an emerging ecosystem that will deliver new levels of flexibility for customers.
It finds that emerging technologies will be vital to service delivery and vehicle logistics, including big data analytics, artificial intelligence, Robotic Process Automation, and blockchain. Data will also deliver insights to establish profitability in a competitive and price sensitive market.
The report, produced in association with the International Asset Finance Network, concludes that the companies that are best suited to navigate this transformation will not necessarily be the ones willing to make the largest economic commitments, but rather those most open to accept new roles and responsibilities.
You can download your copy of Towards a flexible future in auto finance today by completing the form below.