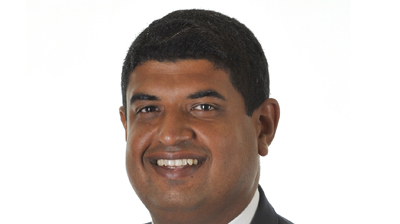 OEMs and their finance captives have never had a better opportunity to harness data and use it to drive growth in the auto finance industry, but they risk missing out unless they develop a better understanding of what AI and machine learning is, and where it can most usefully be applied.
This is one finding from a new research report Operationalizing Servitized Auto Finance that is due to be released by Genpact, a global professional services firm, at the International Asset Finance Network on December 12th, 2019 in London.
"While the OEM owned captives have the potential to become data hubs for their organizations, the report identified a gap in their operational capability to leverage data to deliver growth" said Rohan de Souza, Lead Client Partner for Auto Finance at Genpact (pictured above).
Participants from some of the world's largest auto finance companies highlighted low quality of data, lack of appropriate systems, and lack of skills as the largest barriers to the use of AI.
"The use of AI in auto finance is in its infancy." notes Vinzenz Pflanz, president of corporate sales for German mobility company, Sixt, who points out that many OEMs are not making car-derived data readily available yet. Pflanz expects that this will change, and wider availability could act as a catalyst for the development of new AI-powered services.
The report recommends that finance organizations should look for specialist solutions delivered by tech providers to quickly improve key processes like credit decisioning and fraud detection. But the real value lies in combining and using data that comes from the customer throughout their journey along an increasingly digital trade cycle, and data from the connected car.
The key to the successful integration of AI into a business process is the aggregation of data from the customer, the asset, and the usage profile into one useable data warehouse, and then the extraction of the data that is relevant to the individual customer requirements.
Interesting use cases for AI include determining the next-best-action in sales and marketing - determining for example the initial finance offer and alternative offers; and in optimising the renewal process - using AI to drive so-called "equity parity" moment – the time when it makes most sense for auto finance companies to seek to encourage customers to change their car and renew their finance contract.
Some captives are also looking at the opportunity to grow revenue from AI powered services like predictive maintenance plans. These have been in place for other asset types for some time (for airplanes, for example)– and there are opportunities to use the lessons these industries have learned for the benefit of auto.
Adrian Samareanu, chief digital officer for Volvo Financial Services stresses the importance of keeping customers informed "Customers need to know how we can use data from vehicles to deliver tangible benefits. This will help to improve uptake."
Genpact commissioned International Asset Finance Network (IAFN) to carry out research into operationalizing servitized auto finance using in-depth telephone interviews among leading captives, fleet, and mobility companies, and a more widely distributed on-line survey to identify how to operationalize servitized auto finance and services including cars by subscription and pay-per-use models of finance.
The report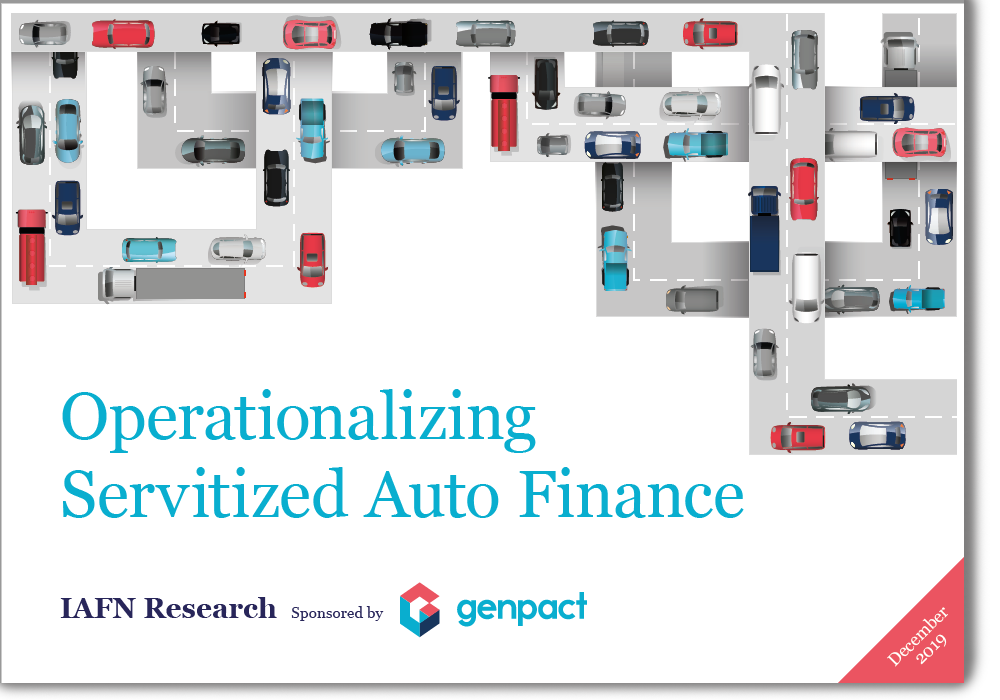 To order a copy of the findings complete the form below, and we will email the research report to you on December 12th when it is released at the IAFN conference in London.
A full discussion of best use cases for AI will take place at the event, including presentations from Marcella Merli, Head of Sales and Marketing at FCA Bank in Italy, and Bob Beatty, EVP of Customer Experience at GM Financial from the US.
IAFN has also invited Professor Gauthier Vasseur, President and CEO of Data Wise Academy and Executive Director, Fisher Center for Business Analytics at Berkeley University to provide authoritative guidance for finance companies seeking to explore the real opportunities from AI and machine learning.
Pre-order your copy of Operationalizing Servitized Auto Finance