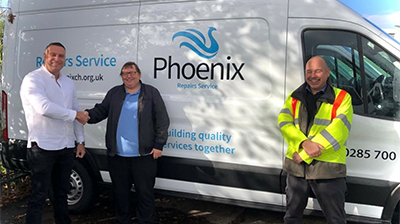 The 2,000th vehicle has now been procured through Pretium's Flexible Fleet Service framework. Delivered by Northgate Vehicle Hire, the PCR 2015- compliant framework was originally launched in 2017 and was reprocured in April 2021, in partnership with Contracting Authority, Watford Community Housing.
The first one-stop-shop rental package of its kind, it provides a full solution, covering servicing and 24-hour breakdown assistance. Also included is the option to procure fleet management services, accident management, and electric vehicles and charging infrastructure.
Nick Hann, Head of Frameworks at Pretium Frameworks, said: "This is an immense milestone to reach, and it is fantastic to see our Flexible Fleet Framework continue to grow. At Pretium, we are aware that a one-size-fits all approach does not work for most businesses when it comes to fleet arrangements, and we pride ourselves on offering a flexible rental package, which reaps many benefits, including a fully serviced fleet, to meet high demand, and increase overall savings."
The 2,000th vehicle was delivered to Phoenix Community Housing, a not-for-profit, resident focused organisation, which empowers tenants and leaseholders in decision making and supports local community initiatives throughout South Lewisham.
The L3 H2 Ford Transit was one of 33 LCVs procured by Phoenix Repair Services, a subsidiary of the housing group, which delivers repairs and gas servicing for tenants.
Stephen Cox, Fleet Manager for Phoenix Repairs Services, said: "We were very happy with the service, and found it convenient to go through Pretium's framework. We received a great deal, with competitive rates and would absolutely continue using it in the future."
Kathleen Whittam, Head of Strategic Accounts at Northgate Vehicle Hire, added: "It is our mission at Northgate to ensure a cost-saving and flexible solution for our customers, and Pretium's Flexible Fleet Framework does just that. We are looking forward to helping more businesses find their fleet solutions in the future."
The flexible framework is also designed to enable fleets to easily transition to the use of electric vehicles, including everything from helping you to choose the right vehicle through to infrastructure, driver training and advice. Northgate's growing fleet includes six EV models, available throughout its branch network.