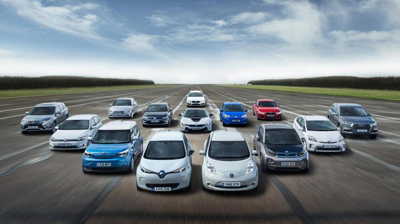 The number of electric car models on sale in Europe is forecast to more than triple to more than 200 by 2021 as manufacturers accelerate their zero-emission vehicle programmes.
There will be 92 battery electric and 118 plug-in hybrid cars on sale by 2021, with experts predicting that 22% of all vehicles produced by 2025 will be capable of zero-emission driving, according to a new report from Transport & Environment (T&E).
However, it says that while production capacity grows, it is still not clear whether demand from consumers will increase in response, especially considering a lack of strong tax incentives for drivers, and concerns about whether the charging infrastructure is adequate.
Despite this, manufacturers must make progress to meet stringent EU emissions targets, which set an average CO2 target for a manufacturer's fleet of 95g/km from 2021, with massive fines for exceeding the limit.
For every 1g/km of CO2 that a manufacturer exceeds its average emissions target by, it can be fined €95 multiplied by its entire production volume, meaning a carmaker producing 500,000 cars would pay a fine of around €50 million.
Technology consultancy PA Consulting predicts that eight major manufacturers are likely to miss their CO2 targets and currently face substantial fines.
Manufacturers face a difficult task in reducing average CO2 because of the long-term growth in demand for SUVs, which tend to have higher emissions because of their extra weight and size. Since the 1990s, SUVs have become increasingly popular amongst consumers in Western Europe, with their share of sales rising from 3% to 15%. In Germany, nearly one fifth of cars sold are SUVs.
The recent plunge in diesel's popularity is another concern for two reasons. Firstly, diesel engines tend to have lower overall CO2 emissions and secondly drivers are switching to higher CO2 petrol engines instead of zero-emission models.
For manufacturers to offset the impact of these trends on emissions, they need to produce increasingly large numbers of zero-emission vehicles to bring down their average emissions, without being certain there is a market to buy them.
The ongoing disruption will also raise concerns for residual values, as asset finance companies try to accurately predict the future values of an increasing array of new models, with little historic data to rely on.
As a result, the new car market is expected to enter a period of significant disruption.
Lucien Mathieu, transport and e-mobility analyst at T&E said: "Europe is about to see a wave of new, longer range, and more affordable electric cars hit the market
"This is a pivotal moment for Europe's automotive industry. Carmakers are investing €145 billion in electrification, and battery making is finally coming to Europe. Success in this area is a top EU industrial priority.
"We need to send a clear signal to industry that there is no way back and agree a phase-out of petrol and diesel car sales in cities, at national and EU level. The age of the combustion engine is coming to an end."
He called on governments to support the transition, with the roll out of EV charging at home and at work backed by tax incentives for zero-emission vehicles.
As electric vehicles power the growth in clean transport, other clean fuels are struggling to gain traction, according to the report.
Only 9,000 fuel cell cars are expected to be produced in Europe by 2025, compared to four million electric cars. The number of vehicles powered by compressed natural gas is forecast to plummet, accounting for fewer than 1% of vehicles produced in Europe by 2025.
* Main image from Go Ultra Low