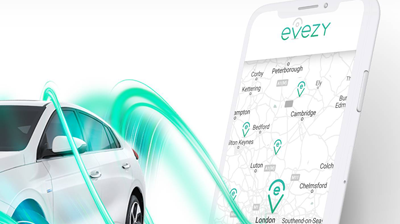 Electric vehicle specialist Evezy aims to reshape the auto finance market with a dedicated subscription service that is geared up for future growth once the lockdown caused by the COVID-19 pandemic is lifted.
The company already has a fleet of more than 1,000 vehicles and stakes a claim as the UK's largest EV provider with its service, which offers an alternative to ownership or leasing for customers.
Subscription services are a key part of the growth in servitisation in auto finance, with customers signing up for access to a vehicle without a long-term commitment.
Evezy vehicles are supplied with insurance, breakdown cover, wear and tear cover and road tax, while service and normal repair costs are also included. Vehicles arrive with two types of charging cable and a charging network subscription.
The entire customer process is digital, starting with downloading a smartphone app.
Drivers take a picture of their driver's licence, confirm their ID with a 'selfie', add their credit card details and, once approved, select a vehicle.
Vehicles are operated using the 'digital key' in the Evezy app, through which customers can also locate, lock and unlock their car and check on its charge level.
There are so-called 'swap points' in Birmingham, Bristol, Leamington Spa, Manchester, Milton Keynes and three in London, where cars can be collected or exchanged.
Alternatively, vehicles can be delivered directly for an additional cost, based on the distance from the car's origin.
There is no deposit and a minimum one-month commitment, with prices starting from £339 per month for a Renault Zoe ZE40 and reaching £999 per month for a Tesla Model 3 Performance.
The price reflects the flexibility built into the subscription model, as other forms of finance require a substantial deposit and a long-term commitment.
Rui Ferreira, vice-president of electric vehicle fleet at Evezy, said in a recent interview: "Evezy gives customers the opportunity to experience an electric vehicle, without the significant upfront cost nor the long-term financial commitment, so they can overcome any apprehension. Subscription models for electric vehicles eliminate the fear consumers associate with electrification."
While the Evezy service provides a vital stepping stone into emission-free motoring for risk-averse consumers, the company is also planning to target the fleet market, where demand for zero-emission cars has been soaring, accounting for more than 50% of all sales of BEV vehicles in the UK this year.
Speaking during an online interview with the firm's community forum, Everything Evezy, founder and chief executive officer Rob Jolly said the fleet was "doubling in size about every two or three months" before the COVID-19 crisis began.
In addition to a fleet offering, planned service upgrades include new mileage-based packages and a hands-free, proximity-based unlocking feature, which operates using the Evezy app.
Jolly, a former product, strategy and innovation manager with Jaguar Land Rover, said: "When you walk up to the car, based on proximity, it will unlock for you.
"So, you can leave your phone in your pocket, start the car and drive without any interaction. We're ready to beta test that with customers once the team is able to go out to update vehicles."
Ferreira, a former General Motors managing director in the Balkans, said: "We are a catalyst for the growth of electric vehicles. Evezy is the convergence of two disruptive trends in the automotive industry; subscriptions services and electrification: delivered through a fully digital experience. This is what makes Evezy uniquely positioned in the marketplace."