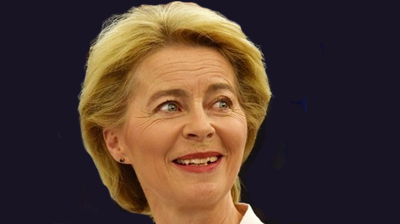 Looking to the future, the European Commission has put all hands to work on forming a recovery plan for the EU following the pandemic, and is reportedly prepared to throw €1 trillion into the far-reaching stimulus programme.
Ursula von der Leyen (pictured above), president of the European Commission reported that the plan is set to be released later this month, focusing heavily on green energy, divided into several sections including renewables, hydrogen and clean mobility, saying each is needed for deep decarbonisation.
Despite the resilient nature of renewable energy displayed during the pandemic, solar and wind market supply chains are expected to shrink by 20-33% this year.
Key aspects of the recovery plan under the renewables and hydrogen section include:
A scheme for renewable electricity projects with a total capital investment of €25 billion;
Support for national schemes with €10 billion over two years, using co-financing by the European Investment Bank (EIB);
A plan to double the current €650 million funding for clean hydrogen research and innovation;
The provision of €10 billion over the next ten years – involving co-financing – to reduce risks of complex projects such as hydrogen;
The provision of a "one million ton of clean hydrogen commitment" to scale up production of clean hydrogen. It will include a "carbon contracts for difference (CCfD)" pilot scheme to bridge the cost gap between conventional and decarbonised hydrogen;
The provision of €10 billion per year to grant loans for hydrogen infrastructure.
€80 billion for auto
For the automotive industry, the plan proposes:
A €20 billion purchasing facility in the next two years for clean vehicles that reduces pollutant emissions in line with EU standards;
A €40-60 billion clean automotive investment fund to accelerate the investments in zero-emission drive trains;
Doubling EU investment on charging infrastructure with the objective of reaching two million public charging stations by 2025.
Furthermore, greater funding is to be allocated to urban mobility programmes such as cycling infrastructure under the EU's regional funding programmes, and a further two sections are to be dedicated to circular economy with a focus on digitalisation.
However, the plan has come under some degree of criticism from environmentalists who claim that it may assign too much attention to hydrogen.
Sebastian Mang from Greenpeace, explained: "The Commission suggests that gas and renewable energy be used to produce massive amounts of hydrogen, instead of using renewable energy to phase out fossil fuels as quickly as possible."
He concluded that EU funds might be better spent on "solutions proven to decrease emissions like decentralised renewable energy and increasing use of public transport and bike lanes."