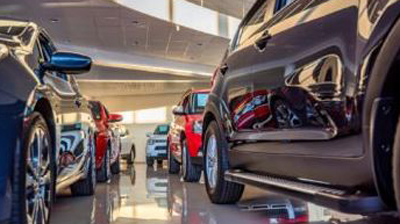 New car registrations in September fell by 4.4% compared to the same month in 2019 with only 328,041 passenger cars hitting the roads, marking the worst September for new car registrations since the UK adopted a two-plate system in 1999, according to figures from the Society of Motor Manufacturers and Traders (SMMT).
The reduced number of passenger car registrations stood against hopes that buyers were waiting for the country's September plate-change to release further pent-up demand caused by the pandemic.
The SMMT's figures show a decline of 15.8% on the 10-year September average, and a 33.2% fall in UK registrations this year-to-date, equalling a 615,000-unit shortfall.
Traditionally, September proves to be a buoyant month, however since 2018 there have been dramatic declines (see graph below) when compared to previous years due to regulatory changes surrounding WLTP.
September new car registrations 2004 to 2020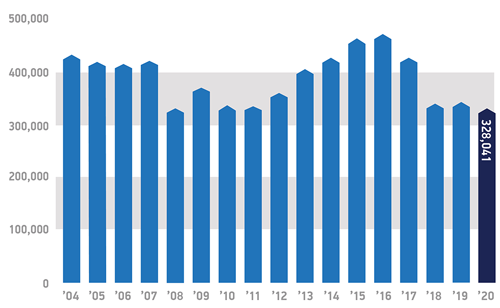 Source: SMMT
Private car registrations fell by 1.1% in the month, while demand from businesses was also muted, with around 10,000 cars joining fleets across the country, representing a 5.8% decline.
According to automotive insight provider Autovista Group, the plummet in new-vehicle demand this year is not forecast to recover until the end of 2021, however trends in the fuel-type mix are continuing as normal.
While petrol still leads the market, it has suffered a decline in market share of 6.8% leaving it holding 57.9% of sales year-to-date. In second place, diesel suffered a significant decline, with a share of 16.8% year-to-date, falling from its peak of 49.8% in 2014. Compared to the first nine months of 2019, diesel has lost 8.9% of its market share.
Looking to alternative fuels, battery-electric vehicles (BEVs) currently occupy 5.4% of the market with 66,611 units, compared to plug-in hybrids (PHEVs) which hold a 3.4% market share year-to-date. September alone saw BEV sales increase 184.3% (21,903 units) while PHEVs grew 1386% (12,400 units).
The September decline means that Autovista's overall expectation of a decline of 30% for the end of the year is held, representing more than £21 billion of lost sales.
Adrian Dally, head of motor finance at the FLA, commented: "With the effects of the lockdown still being felt in parts of the economy, and local restrictions still being announced, it's not surprising that September did not see a return to the usual brisk trade in new cars.
"The FLA's most recent figures for August showed that new business volumes in the consumer new car finance market were 1% lower than in the same month in 2019, while the value of new business grew by 5% over the same period. That's a good performance under very challenging circumstances, and it shows the underlying strength of the sector."
UK new-car registrations, January 2018 to December 2020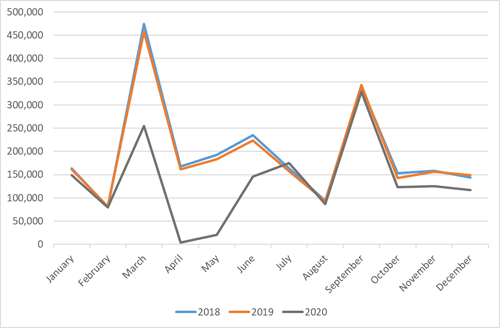 Source: Autovista Group and SMMT
Double digit declines hit Germany
Looking away from the UK for comparison, new car registrations in Germany grew by 8.4% in September compared to the same month in 2019, hitting a total of 265,227 passenger vehicles, according to the German automotive authority Kraftfahrt-Bundesamt (KBA).
According to the KBA, the country has recorded double-declines almost every month in 2020 (see graph below), reaching of its biggest decline of minus 60% in April as the pandemic froze the automotive market.
In terms of fuel type, Autovista Group revealed that petrol fell by 17.6% with 120,645 units and a 45.5% market share in September. Similarly, 67,901 new diesel cars were registered, marking a decrease of 6.4%, and resulting in a 25.6% market share.
In some cases, alternative drivetrains underwent three-digit increases compared to the same month last year, no doubt due to incentives for BEVs being increased from €6,000 to €9,000 for BEVs costing up to €40,000 in July.
A total of 21,188 BEVs were registered, up 260.3% compared to September 2019, capturing a market share of 8%. With 20.4% of the market, 54,036 hybrids were registered, up 185.2%, including 20,127 PHEVs, with a share of 7.6%, up 463.5%.