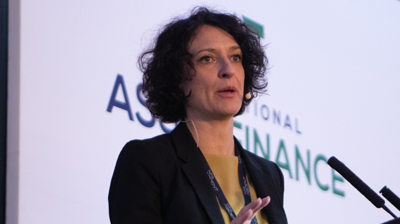 Car manufacturers are developing innovative new finance models as customers expect to move away from ownership towards usership.
Among the leading innovators is FCA Bank, which is powering a range of new services for car users, including pay per kilometre and cars by subscription through its mobility arm Leasys.
Marcella Merli, head of sales and marketing for FCA Bank, said: "Mobility services are really paramount for the future of our sector and the revolution is also coming from the customer."
Among the services is a pay per kilometre offer with no deposit that provides a range of built-in benefits for customers, including breakdown cover and insurance, all paid for within a monthly fee and an additional charge for every kilometre covered over 1,000kms.
A subscription service goes one step further, with customers signing up through an Amazon-based account to subscribe to vehicle packages, which allow them to switch between a range of vehicles or cancel their subscription at any time.
Merli said: "The customer journey starts in Amazon because it is very powerful in terms of customer service and customer relationship. Without any advertising, we have reached very good results."
You can gain an insight into FCA Bank's innovations in this exclusive video courtesy of global automotive, consumer and equipment finance software company White Clarke Group.
Brendan Gleeson, global CEO of White Clarke Group, said: "Mobility services will account for an increasing proportion of manufacturer revenues in the coming years. This adds a new level of complexity to manufacturer and dealer operations, which will require new business models for management and customer service, and of course, a flexible finance system to support them."