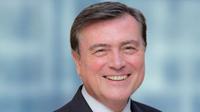 Standard Chartered Bank has announced a commitment to support the Chinese-led 'Belt & Road' initiative by facilitating financing of at least $20 billion by 2020.
Standard Chartered argues it is one of only a few truly global banks that can facilitate trade, capital and investment flows across Belt & Road markets.
It already makes around 85% of its income from Asia, Africa and the Middle East.
The Belt & Road initiative was proposed by Chinese president Xi Jinping in 2013 to create an economic cooperation strategy, involving billions of dollars of trade and investment – as well as policy coordination – across dozens of countries in Asia and beyond.
The initiative was incorporated into China's five-year plan for 2016-20 and is seen as a priority for opening the country's economy.
There are currently 64 belt and road countries and China's total trade with them exceeded $3 trillion between 2014 and 2016.
According to Standard Chartered analysis, China's stock of direct investment in these countries reached more than $129 billion at the end of 2016, compared to $92 billion at the end of 2014.
Multiple tiers of financial institutions are participating in funding, including the World Bank, the Asian Infrastructure Investment Bank (AIIB), investment cooperation funds, China's policy banks, commercial banks (both Chinese and foreign) and China's export insurance company.
The AIIB has provided $2.8 billion for 18 projects and the Silk Road Fund has concluded contracts for 15 projects.
José Viñals, chairman of Standard Chartered, said: "With our unique network, Standard Chartered has a natural fit with the Belt & Road initiative. More than two-thirds of our global footprint overlaps with the Belt & Road destination countries and we have a long history of supporting clients across these trade and investment corridors.
"Our new commitment will support our Chinese clients along the Belt & Road routes and help our destination market clients seize the opportunities resulting from this important initiative."
Standard Chartered's commitment to facilitate Belt & Road financing will be as an intermediary and service provider across a full range of lending, financial markets, transaction banking, capital markets and project finance activities.
The bank has already been involved in more than 50 deals in 2017, worth more than $10 billion, across a range of products and services.
Around half of these were in Africa, a quarter in South Asia and the remainder from across the rest of the Belt & Road footprint.
Shuang Ding, Standard Chartered chief economist, Greater China and North Asia, said: "The Belt & Road initiative has made significant headway in the past four years, and is now well into the implementation stage.
"We expect development financing and commercial banks to play an increasing role in meeting the financing needs of B&R projects."
Example projects under Belt & Road initiative
China-Europe Railway Express
Operates more than 4,000 trains, covering 27 cities in 21 provinces in China and 29 cities in 11 countries in Europe.
The Express operated 1,702 trains in 2016, up from 815 in 2015 and 308 in 2014.
The Express system has three main lines – the eastern line to Russia, the middle line to Northeast Asia, and the western line to Western Europe. All three lines saw growth of more than 100% in the number of trains operating in 2016.
China's government targets 5,000 trains per year, covering 80% of total global rail freight for containers by 2020.
Construction and coordination of the project is led by China Railway Group, and financed by domestic institutions as well as AIIB, Silk Road Fund and investment funds.
Sihanouk Ville economic zone, Cambodia
The zone is one of 20 overseas Economic and Trade Cooperative Zones recognised by China's Ministry of Commerce, and is the biggest economic zone in Cambodia.
103 companies have set up in the zone; 88 of these are Chinese enterprises, mainly in the textile/apparel, luggage leather products, hardware machinery and accessories industries.
The zone has created 16,000 jobs.
Source: Standard Chartered