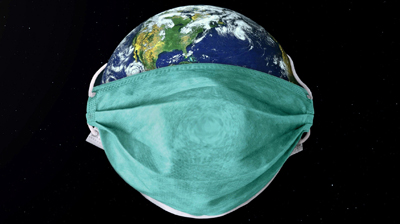 Leaders of the five largest economies in Europe have each launched rescue packages worth hundreds of billions of Euros in a bid to limit the unprecedented impact of the Covid-19 outbreak.
France, Italy, Germany, Spain and the UK are responsible for the majority of Europe's economic output and tens of millions of jobs, many of which are threatened by the rapid spread of Coronavirus.
In response, they have pledged around €1.7 trillion in stimulus packages designed to prevent companies from collapsing, protect jobs and restore confidence as stock markets plummet.
The EU5 had a combined total of 28,000 cases by March 23, with 1,744 dead, most of them in Spain and Italy, but with rapid rises reported in all nations.
Italy bears brunt of outbreak
Although the outbreak originated in China, Italy has been the worst affected country globally, with a current toll of 978 cases per million of its population, despite extensive measures to limit the spread of the disease that keep much of the country indoors.
In addition to broader economic measures, the Italian government plans to take full control of struggling national airline Alitalia.
To protect the economy, funding packages worth €350 billion are being prepared, including hundreds of millions of euros to pay for additional health workers, along with finance to protect businesses.
A tax-exempt €600 payment will be made to almost five million workers, including the self-employed whose earnings have been affected as a result of the emergency.
The government also plans to cover 50% of the salaries of families with children under 15 years of age or with severe disabilities, while there are also grants for babysitting services to support health workers.
Mortgage payments will be suspended to small and medium-sized businesses, which will include short-term maturity loan repayments.
There will also be tax relief for companies that donate funds to fighting the outbreak.
Further measures are also planned as the crisis develops.
Germany limits movement as funds released
In Germany, Chancellor Angela Merkel went into self-quarantine, shortly after announcing new emergency measures that included banning public gatherings of more than two people.
Merkel said the German economy has enough financial reserves to protect businesses and jobs, with measures including continued wage payments and funding for small and medium-sized businesses.
It will plough around €450 billion into the economy in a bid to limit the shock of the virus crisis.
Germany, along with France, has introduced border checks, although EU officials fear this will threaten supply chains that are already under strain.
German finance minister Olaf Scholz has pledged unlimited cash to support businesses, with a massive expansion of loans provided by KfW, the state development bank. Companies will also be allowed to defer tax payments worth billions of Euros.
He told reporters: "This is the bazooka, and we will use it to do whatever it takes." He added that there would be no upper limit to the level of loans issued.
Germany is also one of several countries considering the pan-European issue of 'Coronabonds' to provide a source of common debt to help fund the response to the crisis.
France considers nationalisation of major companies
In France, finance minister Bruno Le Maire said the country was willing to nationalise large companies to protect them from bankruptcy, as he warned of an impending recession.
He said he will use all means at his disposal to protect the economy.
Overall, France will provide around €345 billion to support the economy in the first wave of support, which includes €45 billion to cancel or defer social security payments and protect companies that are hardest hit by the downturn.
Money will also be used to fund a limited hours working scheme.
Much of the money, around €300 billion, will power a guarantee fund to underwrite loans taken out by companies during the crisis.
France's national debt will exceed 100% this year, far in excess of European Union guidelines of 60%.
Spain fights to limit growing outbreak
Spain has unveiled a €200 billion package of measures in response to the Coronavirus crisis, equivalent to a fifth of its output, to help companies and workers.
This covers state-backed guarantees for companies, including loans, along with initiatives such as suspending mortgage payments for those affected by the outbreak.
Spain has also closed its borders in a bid to limit the spread of the outbreak, as its death toll neared Italy's, with both approaching 1,000 fatalities from the disease.
UK launches business loan scheme
The UK's efforts to combat Coronavirus reflect its European neighbours, with a €400 billion scheme focused on jobs, incomes and businesses.
It includes a major government loan guarantee scheme, so that any business requiring funding can receive it.
An expanded business interruption loan scheme offers up to £5 million with no interest due for the first six months.
The Coronavirus Business Interruption Loan Scheme (CBILS) opens today (March 23) and is intended to support UK businesses experiencing lost or deferred revenues that is disrupting cashflow.
It will be delivered by the British Business Bank, through more than 40 accredited lenders and partners.
The CBIL covers loans, overdrafts, invoice finance and asset finance facilities and guarantees up to 80% of the amount loaned for businesses with turnover below £45 million.
It has also delayed planned tax reforms for the self-employed and postponed until June £30 billion of VAT payments due from around 2 million companies.
ECB pledges €750 billion
The national strategies come as international efforts to maintain economic stability continue.
Last week, the European Central Bank announced €750 billion in bond purchases to support sovereign debt markets.
ECB president Christine Lagarde said: "Extraordinary times require extraordinary action. There are no limits to our commitment to the euro. We are determined to use the full potential of our tools, within our mandate."
The Pandemic Emergency Purchase Programme will buy government and corporate bonds.
Bond purchase will only be ended once the bank "judges that the coronavirus COVID-19 crisis phase is over, but in any case not before the end of the year," the ECB said.
It follows years of ECB support for European economies. Since 2015, the ECB has spent around €2.7 trillion on its bond-buying programme.
Globally, the number of people who have tested positive for Coronavirus has reached 350,000, in 192 countries, of whom 100,000 have recovered, while more than 11,000 are reported seriously or critically ill. The total reported death toll is currently 15,000.
| Country | Total Reported Cases | Total Reported Deaths | Total cases/1m population | Economic package (bn) |
| --- | --- | --- | --- | --- |
| France | 16,481 | 674 | 252 | € 345 |
| Germany | 26,220 | 111 | 313 | € 450 |
| Italy | 59,138 | 5,476 | 978 | € 350 |
| Spain | 33,089 | 2,182 | 708 | € 200 |
| UK | 5,683 | 281 | 84 | € 400 |
| USA | 35,070 | 458 | 106 | $ 1,000 |
| China | 81,093 | 3,270 | 56 | n/a |
* Latest data at March 23. Source: Worldometers
Picture credit: Syaibatul Hamdi/Pixabay