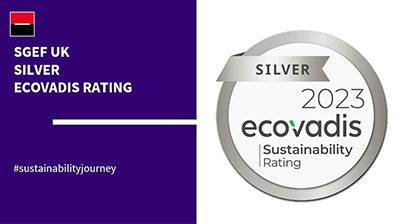 SGEF UK has been awarded a Silver rating from EcoVadis, one of the world's most trusted and independent providers of business sustainability ratings.
It follows the Platinum and Gold EcoVadis ratings recently received by SGEF's HQ (SGEF SA) and SGEF Germany (GEFA).
The most recent rating is a great step in SGEF's global sustainability journey and is in line with their vision to be 'the worldwide partner for integrated equipment solutions, creating sustainable and positive impact for the planet'.
SGEF will use the benchmarking to improve practices and policies moving forward, as they embed new measurements and targets throughout their global business.
Dominic Hughes, Managing Director of SGEF UK said, "This is a great starting point as we challenge ourselves as individuals and as SGEF UK to make a sustainable and positive impact on the planet."
EcoVadis is an independent rating company which has assessed more than 100,000 companies on the full spectrum of sustainability factors of corporates with broad-scale supply chain risk screening and mapping. It provides ratings, scorecards and complete audit and improvement management.