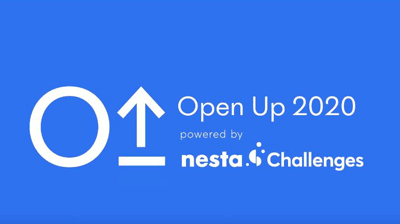 Fintech innovators are being invited to create new consumer open banking solutions as part of a competition to win £1.5 million.
Innovation foundation Nesta Challenges put the Open Up 2020 challenge and prize fund together in partnership with Open Banking Limited to encourage innovation in the sector.
Open Banking Ltd was set up by the Competition & Markets Authority (CMA) in September 2016 to create software standards and industry guidelines that drive competition and innovation in UK retail banking.
Research conducted to mark the launch of Open Up 2020 found that millions of people across the country are currently struggling to stay on top of their finances.
The survey interviewed 2,004 UK adults and showed that one in three (29%) say that they regularly run out of money each month – equating to around 15.2 million people.
The survey also found that half (52%) want to feel more in control of their finances and nearly four in 10 (37%) know they could get a better deal for their financial products but don't know where to start.
Products and services powered by open banking are beginning to show how people can revolutionise their finances through better budgeting, managing debt, automating savings, and making it easier to compare products.
Half (48%) of people say they would like new tools and apps to help them manage their money and Open Up 2020 is designed to incentivise innovators to accelerate the development of these tools even further.
The study also suggests that these products and services could be particularly helpful for the most vulnerable in society or those who are not financially resilient.
Nearly nine in 10 (86%) people who have already used a product enabled by open banking think it would help people who are financially vulnerable to manage their money, and almost eight in 10 (77%) believe that those struggling financially or on lower incomes need to be better supported to make more of their money.
There an appetite among lower income households for this type of support, with over a third (35%) of those earning £20,000 or less saying they would use an app that helped them manage their money.
The areas that lower earners are most likely to want help with are: saving money on bills (25%), saving more money automatically (21%) and helping identify savings on lifestyle costs (17%).
Chris Gorst, Nesta Challenges head of better markets, said: "Open banking is the biggest change in this sector since online banking and, with millions of people across the country struggling to keep on top of their finances, now is the time to ensure genuinely helpful products and services are able to come to market.
"Open Up Challenge 2020 will offer financial prizes and expert support to the most impactful solutions which help people – including the most vulnerable – take control of their money and make the most of it."
Imran Gulamhuseinwala OBE, trustee of the Open Banking Implementation Entity (OBIE), said: "With banks approaching their implementation deadline for Open Banking in September, Nesta Challenge's Open Up Challenge 2020 encourages and incentivises innovators to create even more products through Open Banking that will make a real impact on people's financial wellbeing and wallets."
The Open Up Challenge 2020 is open for applications at openup.challenges.org until 2 October, 2019.