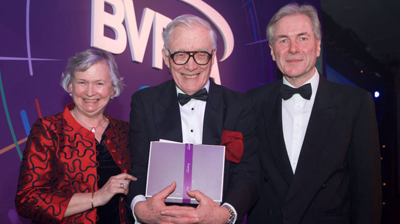 The British Vehicle Rental and Leasing Association has recognised the outstanding contribution to the industry of Brian Back with a major award.
He received the inaugural Freddie Aldous Lifetime Achievement Award during its annual dinner in London.
The award is named in honour of the BVRLA's honorary life president, who passed away in 2017.
Back (pictured centre with Judie Jones, left) has held a range of leadership positions in some of leading companies in the leasing industry, chaired a number of BVRLA committees and spent more than 20 years on the association's board. He has also spent more than a decade on the board of industry charity BEN.
BVRLA chief executive Gerry Keaney (pictured right) said: "Freddie Aldous made an outstanding contribution to the industry and the BVRLA. We are remembering his legacy by dedicating an award in his name to those that have followed in his footsteps and provided great service to our association and the wider industry.
"I am delighted that the inaugural lifetime achievement award was presented to Brian Back, in honour of the support and leadership Brian has shown within the BVRLA over the years. It is fitting that Freddie was instrumental in helping to recruit Brian into an active role with the BVRLA. Brian has provided wise counsel to BVRLA chief executives at some of the post pivotal moments in the association's 50-year history."
Other outstanding performers in the vehicle rental and leasing industry were winners of the BVRLA Industry Achievement Awards. Stephen Best of Arnold Clark Car and Van Rental and Jennifer Wilson of Inchcape Fleet Solutions were the top performers in BVRLA accreditation programmes during 2018.
The final accolades on the night were the Industry Hero Awards, rewarding the unsung stars of the sector who had been nominated by their managers for working tirelessly in customer facing roles, behind the scenes or for demonstrating a commitment to excellence. The winners were Ashlee Lanchbery of Alphabet (GB) and Mark Gallagher of Grosvenor Contracts Leasing.
The annual gala dinner event attracted more than 850 people from the vehicle rental and leasing sector.
BVRLA chairman Matt Dyer, recently appointed CEO and president of LeasePlan USA, spoke via video link on the unprecedented pace of change the sector is facing.
He said: "As an industry, we have taken new challenges such as air quality, congestion, road safety and urban mobility and used our expertise, insight and financial acumen to come up with solutions and services.
"During 2018, the BVRLA engaged with a more diverse membership than ever before and spoke to a record number of policymakers to raise the profile of the industry, engaging with officials in town halls, in Westminster and at Number 10."