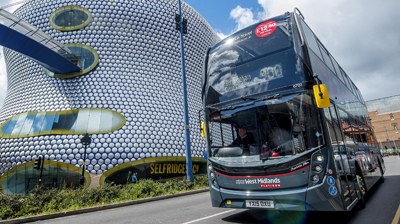 Global public transport operator National Express Group will no longer purchase diesel buses for its UK operations, the company has announced.
The decision coincides with the planned introduction of new electric coaches during 2021, as it moves to a fully zero emission UK bus and coach fleet by 2035.
Dean Finch, chief executive officer at National Express Group, said: "Bus and Coach travel is already one of the greenest ways to get around, with each bus removing up to 75 cars from the road. National Express has already invested in clean buses and coaches and kept fares low to support a shift from private cars to mass transit.
"Working through our West Midlands Bus Alliance we have achieved the fastest passenger growth of any major city-region in the country, demonstrating its success.
"However, we understand the imperative to go much further, so we are setting out an ambition to be the first zero emission transport group in the UK.
"Our decision to never again buy a diesel bus in the UK coupled with our support in leading the zero-emission transition in coach will place our UK operations at the forefront of efforts to tackle climate change and poor air quality. We simply believe this is the right thing to do for our customers, the communities we serve and our stakeholders."
The group is present in the UK, North America, continental Europe, North Africa and the Middle East with a total fleet of more than 31,500 vehicles.
Around 940 million journeys are made using National Express services each year.
In the UK, the National Express bus division uses its fleet of 1,600 vehicles across the West Midlands, Coventry and Dundee to ferry around a million passengers on a daily basis.
The National Express coach business runs 1,800 daily services to more than 540 cities and towns, providing journeys to more than 21 million passengers in 2019 alone.
To underpin its green aims, environmental targets will make up 25% of senior executive long-term incentive plans within the group.
It will also launch a procurement competition to choose the manufacturers that will supply its future electric fleet.
In future, National Express will place a major order for electric buses, hold an in-service trial of an electric coach on its Stansted Airport service, and select partners to develop a zero-emission vehicle suitable for all long-distance coach routes.