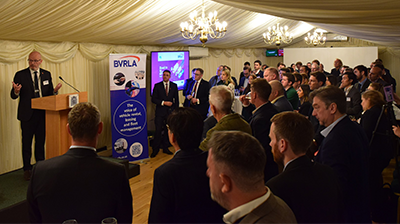 The BVRLA has announced its key asks of government for the fleet sector, calling for certainty, focus and fairness in the transition to zero-emission road transport.
The Future of Fleets Manifesto was launched last week as part of the association's Parliamentary Reception event held at the House of Commons.
There, MPs from all parties, BVRLA members and senior industry stakeholders from across the fleet, mobility and energy sectors gathered to discuss the future of road transport.
Key asks in the manifesto have been drawn from member input and the findings of the BVRLA's latest Road to Zero Report Card, which has been tracking the industry's progress for more than five years. Car, van and truck needs are represented, as are the distinct needs of fleet operators, the rental sector, and leasecos.
Addressing guests at the event, Toby Poston, BVRLA Director of Corporate Affairs, said: "With a general election on the horizon, our voice needs to be heard now to influence the transport policies of tomorrow. Our Future of Fleets Manifesto outlines the pathways to a successful transition and where the government should be playing an active role."
"Greater certainty around tax and regulation will provide the clarity that fleets need to carry on investing in the transition. By focusing on the key pain points we can unleash a new wave of zero emission transport use cases. With more fairness we will ensure that no road users are left behind."
The Future of Fleets Manifesto 2024 is split into three critical asks:
Certainty: reinforce the foundations
Focus: support commercial vehicles
Fairness: leave none behind
While road transport accounts for around a quarter of the UK's greenhouse gas emissions, and with a fleet of over 4 million cars, vans and trucks, the BVRLA and its members are well aware of their climate change responsibilities. As Toby Poston noted: "I am proud to say that BVRLA members haven't just embraced decarbonisation, they are driving it."
Poston also highlighted the need to prioritise commercial vehicles, with van use "exploding" in recent decades. Since 1990, total mileage has more than doubled and emissions are up 62%. It is the only road vehicle type to see this kind of increase.
In supporting commercial vehicles, the BVRLA Manifesto highlights the need for increased fiscal support, removal of regulatory barriers, and the improvement of charging for vans and trucks in public and private networks.
Poston concluded that, "In the race to decarbonise, the big prize only comes when everyone crosses the finishing line."
The BVRLA's Future of Fleets Manifesto will now be used to shape the association's discussions with decision makers and industry stakeholders to drive positive, fleet-friendly, change.
Full details of the Future of Fleets Manifesto can be found on the BVRLA website at https://www.bvrla.co.uk/resource/future-of-fleets-manifesto-2024.html