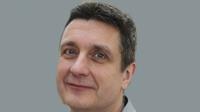 Nick Dudley has joined Aldermore as head of business development for dealer services, a newly created role within the Bank's Business Finance division.
Dudley will be responsible for partnership accounts across a variety of industry sectors, with particular focus on transportation and construction which will complement the Bank's growth ambition across the manufacturer and dealer services platform. He will also play a key role in developing new products to meet growing customer demand.
He has over 25 years' experience working within the asset finance industry, where he has held a number of senior positions with companies including Hitachi, ING, GE Capital and Close Brothers.
Based in Aldermore's Reading office Dudley will report directly to Stewart Good, head of manufacturer and dealer services.
Dudley stressed: "This is a great opportunity to build on existing relationships and develop best-in-class products and services to meet the changing needs of customers. I look forward to using my experience to ensure greater efficiency, effectiveness and productivity to better serve customers by offering more complete solutions."
Stewart Good added: "Nick's extensive experience will be instrumental in helping us move into the next phase of growth. As a business we are committed to providing the best products and services to our customers and Nick's experience will support this. Nick will be a real asset to the team and I am delighted to welcome him to Aldermore."