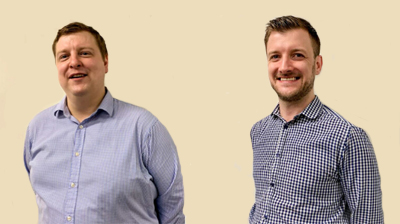 SME funder Simply has formed a dedicated manufacturing unit to drive growth and better support existing customers.
It will be spearheaded by Matt Graham (pictured left) and Liam Ryan (right), who join as national sales managers.
Graham and Ryan have previously worked with Close Brothers Asset Finance, specialising in the support of manufacturing and engineering companies.
Mike Randall, chief executive officer at Simply, said: "Simply continues to go from strength to strength and the creation of this new team is part of the business' commitment to put even more people on the ground that really know and understand specific sectors.
"Now ranked number 44 in the AF50, the UK's most influential annual survey of business and equipment lessors, we want to support SMEs even further in 2020 by widening our offering and Matt and Liam bring a wealth of skills and a real desire to help businesses grow and prosper."
"32 months after launch and a year after we started originating on our own book, we have lent over £330 million to over 3,000 customers across a variety of sectors."
Last year, Simply was named European Equipment Finance Lessor of the Year at the International Finance Network Awards and entered the Asset Finance UK 50 for the first time.
Ylva Oertengren, Simply's chief operating officer, was awarded the inaugural Women in Leasing Award at the International Asset Finance Network Awards in December last year. The Women in Leasing Award was created to recognise the importance of diversity in the asset finance industry.