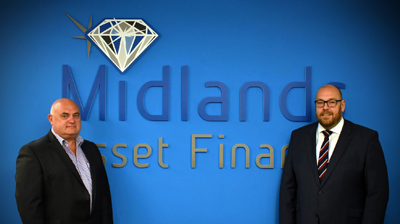 UK-based financial services broker Midlands Asset Finance (MAF) has unveiled its new vehicle management and leasing division, now in full operation.
MAF Leasing is designed to serve consumers and businesses, marking a new milestone for the company. The division is split into two business arms, with one looking after consumers and SMEs, allowing users to source, compare and lease vehicles online for personal and business use. The other arm of the division will then provide larger fleets with an end-to-end solution to the corporate sector, including funding and mobility.
Dave Chapman (pictured above left), head of sales & property at MAF, explained: "The new division will complement our existing offering of funding for asset finance and property really well, as we provide funding solutions across all industry sectors. We will be concentrating on helping clients with cost savings and improved efficiencies across all aspects of vehicle management."
Established in 2009, financial intermediary MAF aims to support the SME and mid-corporate markets to source funding across a range of products. The company predominantly arranges tailored funding packages to businesses operating in any industry sector.
MAF is perhaps best known for its Asset Finance Compared online solution which offers businesses an online "decision in principle" in as little as one minute, with all documentation and pay-outs being handled in-house.
Chris Leslie (pictured above right) was chosen to head up the division with the new title of director & head of vehicle management. With some 25 years of experience in the automotive industry, Leslie began his career in 1995 with a franchised retailer network at BMW Group and VW Group. During his nearly 18-year tenure at the firm he held various roles in sales, business and general management.
In 2013, Leslie moved to Pendragon Vehicle Management as business development manager of its corporate division. Here he dealt with national sales, business development and leasing and vehicle management for two years before being appointed as the head of new business for the company's corporate division.
Finally, Leslie spent a brief time with Autovista Group from June 2019 to March 2020 where he occupied a variety of roles such as key account manager and latterly taking charge of new business development for the company.
In his new role with MAF, he is set to lead a dedicated new business sales and account management team, all of whom are experienced in the financial services and vehicle management sectors.
Leslie, said: "I am delighted to be joining MAF to launch this exciting new division. We can now offer a mobility solution across multiple business sectors, whilst offering a comprehensive vehicle funding solution for all our clients - whether it's for personal or business use. After gaining significant interest in the service already, I'm looking forward to seeing the division grow as we help businesses navigate the challenges of fleet ownership through these difficult times.
"As a business, MAF are always looking for new and improved ways of making it easier for customers to deal with us and that has never been more relevant than during the pandemic. Our customers have many things to consider whilst running their business, and running a fleet can be very time-consuming and costly if they get it wrong.
"With the launch of this division, we have achieved what we have set out to do - provide a solution to not only save customers time and money but to help reduce their operational risk, leaving them free to focus on rebuilding businesses in the aftermath of the pandemic.
"The real challenge experienced whilst setting up the new division was suppliers and funders moving into lockdown just as we were at stage one of our development plan. However, I am pleased to say that our partners have pulled out all the stops, written contracts and attended multiple video meetings to enable us to launch successfully."