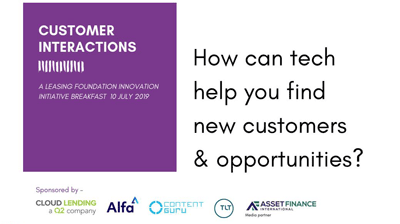 A panel of industry experts will look at the growing importance of customer experience in finance at the next Leasing Foundation Innovation Initiative, which takes place on Wednesday, July 10 in London.
The morning event will look at how the leasing industry can catch up with global giants such as Apple, Amazon and Google when it comes to customer experience and how this can help with loyalty and customer satisfaction.
The panellists are Alex Marsh, senior commercial director of payments platform Klarna; India Pollard, product marketing associate for disruptive mobile-only bank Monzo; Richard Manthorpe, product director for customer engagement specialist Content Guru; and Sridhar Iyengar, head of European operations at integrated business software provider Zoho.
The seminar, which is the third in a four-part series, will look at the new technologies and market channels that are available to help the industry and how established relationships in the sector are beginning to change as multi-channel experiences become an essential part of doing business.
The sponsors of the seminar include TLT, which will host the event at its offices, Cloud Lending Solutions, Content Guru, and ALFA.
Secure your place by visiting the event website.
For more information on the Leasing Foundation Innovation Initiative, visit its LinkedIn page for news and updates.